If your baby is struggling with gas and stomach pain, Mylicon may be a good solution. But how fast does it work? We compare the medication with some popular alternatives.
The products mentioned on this page were independently selected by Babycious editors. As an Amazon Associate, Babycious may earn a commission from qualifying purchases.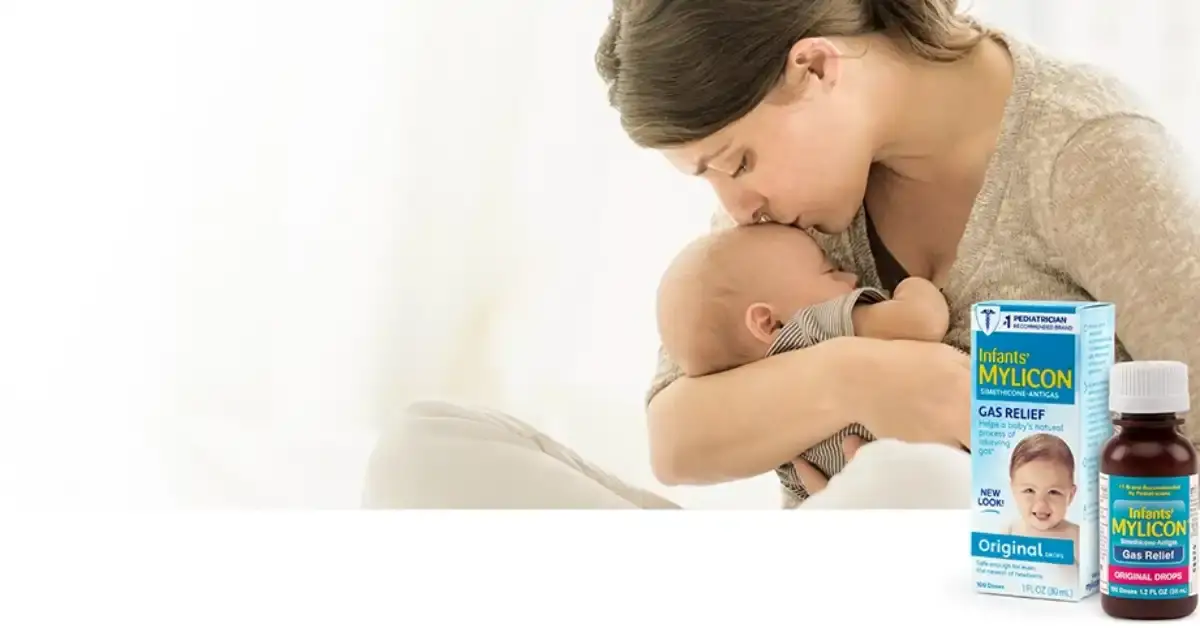 One of the hardest things we face as parents is watching your baby being uncomfortable and in pain and not being able to do anything about it. Gas is the usual suspect when it comes to discomfort in babies. They cry, they arch their back and they (and you) can't sleep.
If you're looking for a medication to help relieve your baby's gas and stomach pain, Mylicon is a popular choice that is recommended for safe and effective relief of infant gas. But how fast does Mylicon work?
Mylicon gas drops usually work very quickly. In most cases, they provide instant relief and take away the pain and pressure that comes along with gas. However, some parents report that it takes a little longer for Mylicon to work for their baby, and for some, it doesn't seem to work at all (If this is your case, scroll down for alternatives to Mylicon that can help your baby with gas).
When using Mylicon, be sure to follow the package directions carefully. The recommended dosage for infants under 2 years old is 0.3 mL (milliliters) up to twelve times a day. With my daughter, I had to give it to her every feeding for a while and it was very helpful. I also found it works best when it is given before feeding.
How Mylicon Works to Relieve Gas
If your baby is dealing with gas, Mylicon is an over-the-counter gas relief medication that can help alleviate some of your baby's discomfort. The active ingredient in Mylicon, as in most gas drops, is Simethicone. It works by breaking up gas bubbles in the stomach, which makes it easier for babies to expel it either through burping or passing gas.
Simethicone has been approved by the U.S. Food and Drug Administration (FDA) back in 1952. It has been used for over 50 years to treat gas in infants and children. Mylicon is available without a prescription and can be found in most pharmacies and grocery stores.
Alternatives to Mylicon
If you're not seeing results with Mylicon or you're looking for more natural solutions for gas relief, there are some other options to try.
Gripe Water
One popular alternative to gas drops is gripe water. Gripe water is a herbal remedy that has been traditionally used to relieve gas and stomach pain in infants.
There are many different brands of gripe water on the market, and they all contain different ingredients. However, most formulas include sodium bicarbonate along with herb extracts like ginger, fennel, or dill, which are all known to help with gastrointestinal issues.
Gripe water is available over the counter and can be found in most pharmacies and grocery stores.
Belly Massages
If your little one is gassy, a belly massage may help to relieve some of their discomfort. Gently massage your baby's tummy in a clockwise direction to help move gas along. You can also try placing a warm compress on your baby's stomach to help them relax.
Another position that used to help my daughter so much with gas is to lay your baby on their back and move their legs in a bicycling motion. You can also gently push your baby's legs into their belly, hold them there for about ten seconds, and then release them. You can repeat these movements a few times and hopefully, your baby would start passing gas and feeling better.
Change in Diet
For some babies, gas may be caused by food intolerance or an allergy. If you think your baby's gas may be related to their diet, talk to your pediatrician. They may recommend changing your baby's formula or eliminating certain foods from your diet if you are breastfeeding.
Keep a food diary to track when your baby has gas and what they have eaten so you can identify any patterns.
Change Bottles
Sometimes, the solution to relieve your baby's gas pain can be as simple as changing their bottle. If you are bottle feeding, consider switching to a bottle that has a wider base or is vented to help reduce the amount of air your baby swallows.
Dr. Brown's bottles did wonders for us and helped so much with my daughter's gas issues. They are available at most pharmacies and grocery stores.
Final Thoughts
If your baby is dealing with gas, there are a few things you can try at home to provide relief. Mylicon is an over-the-counter gas relief medication that can help alleviate some of your baby's discomfort. However, if you're not seeing results with Mylicon or you're looking for more natural solutions, gripe water, belly massages, and a change in diet are all alternatives to try. Hopefully, one of these solutions will provide some relief for your little one.
How have you relieved your baby's gas pain using Mylicon or another effective method? Let us know in the comments below!
The purpose of this article is informative and educational only. It's not a substitute for medical consultation or medical care. We do not accept any responsibility for any liability, loss, or risk, personal or otherwise, incurred as a consequence, directly or indirectly, from any information or advice contained here. Babycious may earn compensation from affiliate links in this content.