Wondering who pays for a baby shower and how to save money on your party? Check out our helpful tips.
The products mentioned on this page were independently selected by Babycious editors. As an Amazon Associate, Babycious may earn a commission from qualifying purchases.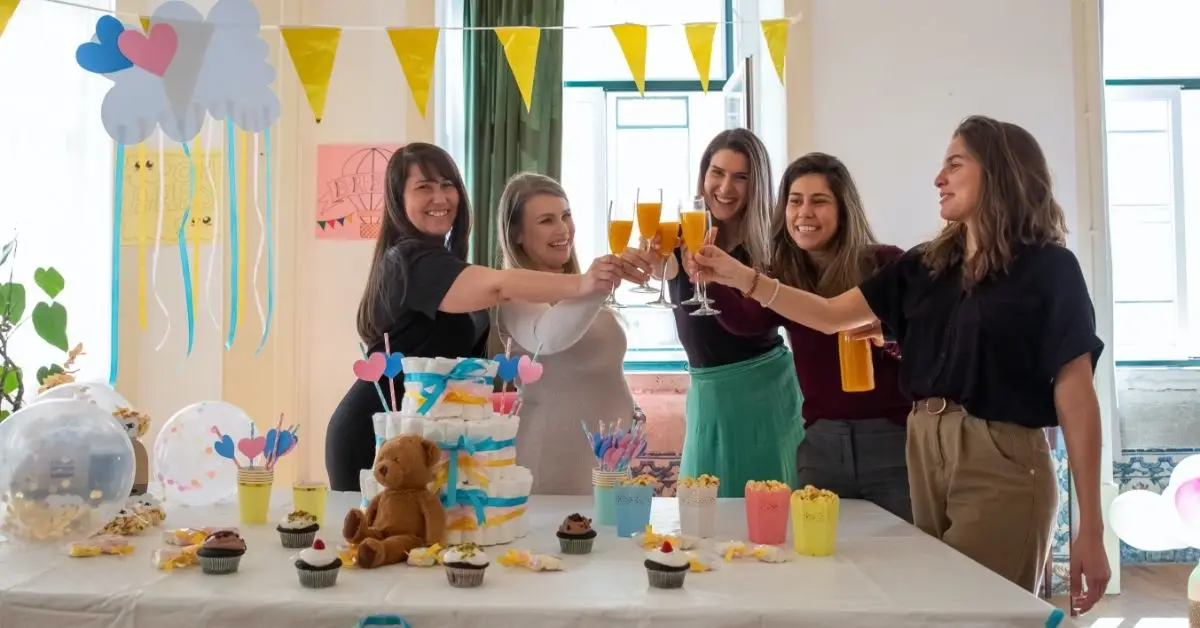 There are many questions that come up when planning a baby shower, but one of the most common is "who pays for a baby shower?"
The answer to this question can vary depending on your relationship with the parents-to-be, but there are some general etiquette tips that can help you out. In this blog post, we will discuss who typically pays for a baby shower and some tips on how to throw an amazing party without breaking the bank!
Who Pays for The Baby Shower?
Traditionally, the organizer of the baby shower pays for all the expenses associated with the event. The organizer can be one or more close friends or relatives of the mother-to-be. If the event is being held at a private residence, the hostess usually covers all costs related to food, drinks, and decorations.
If the shower is being held at a public venue, such as a restaurant or banquet hall, the parents-to-be may be responsible for paying the venue rental fee and any other associated costs.
While it is traditional for the hostess to cover all baby shower expenses, many parents-to-be are now opting to contribute to the cost of the event. This is especially common if the expectant parents want a large number of people invited to the shower. If you are planning a baby shower and are wondering who should pay for it, the best thing to do is to talk to the parents-to-be and see what their preference is.
Can You Charge Guests for Attending a Baby Shower?
No, you cannot charge guests for attending a baby shower. The whole point of the event is to celebrate the impending arrival of the new baby and to shower the family with love and items they will need for the baby.
Apart from being very rude, asking guests to pay for the privilege of attending the shower would defeat the purpose of the event. The guests' only contribution to the baby shower is gifts for the new baby, so keep in mind that you should leave them with enough funds for the gifts rather than expect them to cover expenses related to the event.
Another pitfall to avoid is asking guests to bring food or other items to the baby shower. This is often done in an attempt to save money on the event, but it is generally considered to be bad etiquette. Your guests should not have to worry about bringing anything other than a gift for the new baby!
Tips to Cut the Costs of A Baby Shower
Taking the initiative of throwing a baby shower is a kind and generous act that shows just how much you care about the parents-to-be. However, for a baby shower as for every event you decide to organize it is important to set a budget in order not to overspend, and most importantly to organize the event you can afford to organize.
If you are worried about the cost of throwing a baby shower, there are some ways to cut costs without sacrificing on quality and without committing major faux pas when it comes to baby shower etiquette like charging the guests for attending the event!
Co-Hosting the Baby Shower
One way to reduce the cost of the baby shower is to co-host it with another friend or relative of the parents-to-be to share the expenses. You can have one or two other people organize the event with you to help with the costs, but be careful not to ask too many people as this can quickly become a tricky affair to manage.
If you are co-hosting the baby shower with someone, be sure to decide who will be responsible for each expense before the event. This will help avoid any confusion or disagreements about who should pay for what.
Throwing a Simpler Baby Shower
Another way to reduce the cost of the baby shower is to scale down your expectations for food and decor. If you are expecting a large number of guests, it can be more cost-effective to have the event at 3 in the afternoon when no one expects a full meal to be served rather than hosting a dinner party. You can serve homemade lemonade, iced tea, or coffee along with decorated cupcakes, and even some simple finger foods like a cheese and crackers plate.
When it comes to decorations, try to stick to simple items that can be easily sourced from a dollar store or online. You can find a banner that says "Welcome Baby!", balloons, streamers, and other baby shower decorations for very cheap prices if you take the time to look around.
Read Also: Under Crib Storage: Can You Store Stuff Under Crib?
Choosing a Budget-Friendly Venue
A baby shower can be held in the home of one of the organizers, but if you are expecting a large number of guests it may be more practical (and cost-effective) to rent a space. Look for free or low-cost venues like a library meeting room, community center, or even a restaurant or bar that has an event space you can rent for the afternoon.
One way to save money on the venue is to hold the event at a time when the venue you are using will not be in high demand. For example, many restaurants and bars offer discounts on their event spaces if you are willing to hold the baby shower during off-peak hours like an early afternoon on a weekday.
Final Thoughts
Remember, the most important thing about a baby shower is not the food or decorations, but the love and support you show for the parents-to-be! With that in mind, you can easily throw a beautiful and memorable baby shower on a budget.
Have you ever thrown a baby shower on a budget? What tips do you have for others who are looking to do the same? Share your thoughts and advice in the comments below!
The purpose of this article is informative and educational only. It's not a substitute for medical consultation or medical care. We do not accept any responsibility for any liability, loss, or risk, personal or otherwise, incurred as a consequence, directly or indirectly, from any information or advice contained here. Babycious may earn compensation from affiliate links in this content.