Ready to start making fresh homemade food for your baby? Let's find the best baby food steamer and blender to make this task fun and easy.
The products mentioned on this page were independently selected by Babycious editors. As an Amazon Associate, Babycious may earn a commission from qualifying purchases.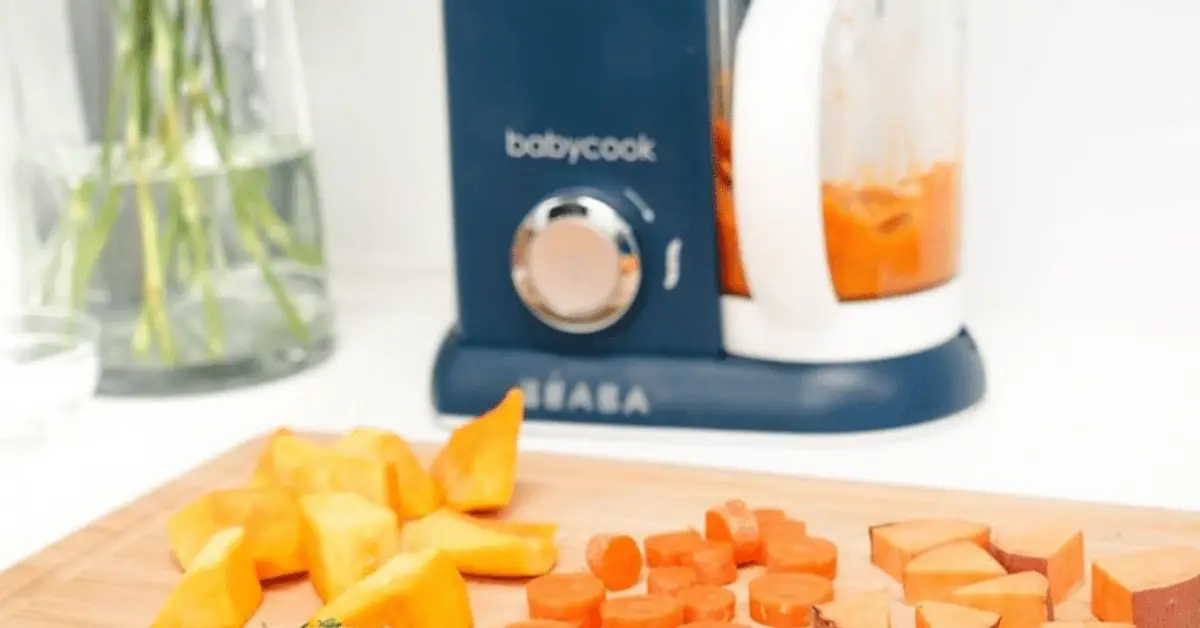 Your baby is starting solids and you are looking for an easy way to make your baby some fresh homemade and healthy food? A baby food maker is going to be your best friend during these exciting times. In this article, we review for you the best all-in-one baby food makers on the market. We'll be looking at devices that can steam and process the food, but we'll also review some models that do more than that.
A baby food steamer and blender will be a smart addition to your baby essentials list. If you don't want to compromise on the quality of the food you serve your baby, especially during the solids introduction stage, where your baby is still discovering and learning to love new tastes and textures, then you'll love using a baby food steamer and blender. You will easily become your baby's own personal chef, inventing new recipes and putting your special touch on classic baby food purees.
Our Top Picks
Looking for a quick recommendation for the best Baby Food Steamer and Blender? Here are our top picks:
Best Multifunctional Baby Food Maker​
What we love
This versatile baby food maker can not only steam and blend food but also grinds, warm and mills the food. All you have to do is press the automatic button. If you don't want to use automatic mixing, there are different mixing modes that you can manually adjust to get the perfect texture. The stirring function can be stopped at any time during the process if you have reached a satisfactory result.
We love that the Grownsy baby food maker can keep the food warm if your baby is not ready to eat yet. It can also heat the milk for you to make the food preparation even easier. 
Cleaning up this baby food steamer and blender is a breeze, and the sterilizing function makes this product safe and healthy to use.
You can follow the cooking guide that comes in the recipe booklet with the product to get the exact cooking times for every food. It also comes with a spatula and 8 reusable pouches to store the food if you batch-cook it.
Please note
Some parents noted that this baby food steamer and blender is a little noisy and that the lid smells like plastic when using it for the first times.
Best Budget Baby Food Maker
What we love
The Homewell food maker has an intuitive knob control panel that lets you go from steaming the food to mixing it all in one go. With this baby food maker you can prepare up to 20 oz of baby food in one round, so that gives you plenty of meals you can save for later. 
We like that it's made of sturdy material and that it's dishwasher safe. It is great that all the pieces come apart which makes it very easy to clean. The blending blade has a lock on it which makes removing the blades extra safe.
It also has a powerful processor that can blend anything from steel-cut oats to carrots and everything in between. The processor has an overheating protection and an anti-dry function that makes it safe for you and your family to use. We love that this stylish baby food maker is not bulky but still enables you to make plenty of baby food.
Please note
Some parents complained about the blending feature and said that it might take a few tries to get the right consistency.
Most Reliable Baby Food Maker​
What we love
The BEABA babycook is a joy to use. This is a compact device that won't take up much space on your counter, but It's still big enough to make many servings and freeze them for later. The defrost function comes in really handy. The blending and cooking power are enough to make very smooth purees. Just be careful when cleaning the blades, they are very sharp! 
If you want a baby food steamer and blender that is very simple to use and straight to the point, then this one's for you. It can handle most fruits and veggies and also meat.
You can use the Beaba baby food maker not only to make delicious organic baby food but also you'll be surprised at how great it is for adult food as well like jam and hummus!
Please note
An issue that some parents reported having with this baby food steamer and blender is that it grows mold in the water reservoir. You can avoid this problem by thoroughly drying the blender after use to avoid any water deposits that can mold the water tank. You can also clean the boiler using white vinegar from time to time for extra safety.
Best Multi Baskets Baby Food Maker​
What we love
This baby food steamer and blender let you steam 3 different foods at the same time, which is a real-time saver for busy parents, especially if you're taking care of two or more kids. The three food baskets are of decent size and the food you put in the top container steams as well as the food on the bottom.
We love that it's an all-in-one device that can be very useful for traveling since it combines a steamer, food processor, bottle warmer, and sterilizer all in a single unit. 
The water tank of Homia baby food maker is big and you can check if there's enough water in it without having to open the lid. It also has an additional protective cover other than the lid, which helps avoid accidents.
On top of all that, parents praise the excellent customer support! So you can go ahead and purchase this product with your eyes closed.
Please note
This baby food steamer and blender is compatible with 110V power networks only. Some parents complained that disassembling the blades for cleaning takes a little time.
Best Mini Baby Food Maker​
What we love
This tiny device is the perfect size for making just enough for one to three meals at a time. You can experiment with a small amount of food and see if your baby likes it, if he doesn't you won't have a huge amount of baby food go to waste. If you have a small kitchen and you are not planning on making bulk baby food then the QOOC 4-in-1 mini baby food maker will be a game changer for your baby food prep.
We love that the purees come out very smooth and creamy, so if your baby is picky about textures you will love this too. 
We also love that it is not very noisy compared to other baby food makers and we found it to be very easy to clean.
Please note
Use the flat lid that comes with the unit when you are blending food to prevent splatters. And make sure to run an empty steam cycle before using this baby food steamer and blender. 
Best XL Capacity Baby Food Maker​
What we love
This is an XL baby food maker for multitasking parents. It lets you steam more than one food at a time and the purees turn out perfect thanks to the 3 different settings on the blender. 
A strong suit of this Babymoov food processor is that it can hold up to 9 cups, so you can make multiple meals at once and prep ahead for later. You will also find this baby food steamer and blender to be handy for making various foods for your family, not only for your baby.
We love that Babymoov Duo Meal Station turns off automatically which can be helpful in case you walk away while the food is cooking.
We also love that the BABYMOOV duo meal station looks very modern and won't take up much counter space despite its large capacity.
Please note
Some parents found the blending function to be somewhat weak.
The downside of having multiple compartments in the same machine is that you have to clean the whole device even if you have used just one compartment. 
Also, note that the BABYMOOV duo meal station is pricier than other baby food makers we reviewed, but parents who own it believe it's worth every penny.
Our Verdict
If you're looking for a baby food steamer and blender that is easy to use and convenient, but also affordable, then the GROWNSY Baby Food Processor and Steamer is for you. It does what pricier baby food makers do for half the price.
Baby Food Steamers and Blenders on Our Watchlist
These baby food steamers and blenders didn't make the list, but still caught our attention:
Baby Brezza Glass Baby Food Maker – This is an interesting choice if you prefer a baby food steamer and blender with a glass bowl over the plastic option.
NutriBullet Baby Complete Food-Making System – A convenient baby food maker that comes with six perfectly sized jars and a freezer tray. It is good for making small amounts of food and comes with a lot of recipes and instructions. 
Still not sure?
Why You Should Get a Baby Food Steamer and Blender?
Getting a baby food maker might not be absolutely necessary, but it will make your life so much easier once your baby starts solids! This can happen as early as 4 months. Your baby food steamer and blender will then easily become your BFF.
Homemade Baby Food Made Easy
A good baby food steamer and blender will save you some valuable time when making your baby's homemade food. No more using pans and bulky food mixers and watching the food temperature. Just pick a food according to your baby's age and where you're at in your solids introduction journey, and let your baby food steamer and blender do the rest. your baby's healthy and yummy food will be ready in a matter of minutes.
Know What's in Your Baby's Food
You can offer your baby healthy food every day which is not as easy as it sounds when you don't have the right equipment. Homemade food has generally more nutritional value than store-bought baby food. It is also tastier than any food you'll buy in a store. 
When you make your baby's food from scratch you get to decide exactly what foods your baby eats and you know the exact ingredients your baby's food has. Preservatives? sodium? sugar? none of these will make the list of ingredients for your homemade baby food.
Save Money on Store-Bought Baby Food
Buying one baby food pouch is certainly no big deal from a financial point of view. But having to buy baby food consistently can easily add up and weigh down your budget. 
A good baby food maker will last you your baby's first years and even more, and will save you quite a bit of cash on commercial baby food. You can even use it later as a kitchen aid, so it is definitely not a waste of money.
Reduce Waste
If you are environmentally conscious (and we all should be) then you'll probably be bothered by all the empty baby food pouches and jars going into your garbage bin. That's one category of waste you can simply skip by making your own baby food.
How to Choose a Baby Food Steamer and Blender?
There are many things to consider when choosing a baby food maker. The steaming and blending functions are the most important ones. Here is what else to look for when buying a baby food steamer and blender:
Functions
A basic baby food steamer and blender will have steaming and blending functions built in. You should look for a baby food maker that enables you to finely blend fruits and vegetables, especially if your baby is around six months old and just starting solids. 
More sophisticated baby food makers might have additional functions like chopping, grinding, milling, and defrosting. These additional options can be helpful in preparing baby food but are not necessary.
Capacity
That's an important feature to look at when buying a baby food steamer and blender. A small baby food steamer and blender, even if it's highly efficient, can prove to be limited as your baby grows up and develops a bigger appetite. 
Look for a baby food steamer and blender with a bowl that can hold at least two and a half cups. 2 and a half cups equal 20 oz (nearly 0.6 liters of liquid). A bigger baby food steamer and blender will enable you to batch-cook your baby food and store multiple meals in your fridge or freezer, so you won't have to prepare every single meal.
With that being said, you should also consider your counter space. Assess how much space you can spare on your counter, and keep it in mind when considering a baby food steamer and blender.
Safety
Any materials that come in contact with your baby's food need your attention. Some materials can migrate to your baby's food and cause microplastics exposure. This is important especially if heat is applied which is the case for baby food steamers and blenders. So our advice when you look at a baby food steamer and blender is to make sure it is made from BPA, lead, and phthalate-free approved materials.
Design
Afraid of cramping your kitchen's style with an out-of-place appliance? A baby food steamer and blender will mostly be on your counter, so you'll probably want it to blend in well with your existing kitchen style. Choosing a baby food steamer and blender that fits your kitchen interior is important. 
Luckily, there are baby food makers that are stylish enough to go with any home design. And even if we don't recommend you choose a baby food maker based on its looks, it can be a factor that influences your choice!
Before You Go
Getting a baby food steamer and blender that fits your needs is very important. The baby food makers that made our list of the best baby food steamers and blenders were carefully reviewed and are all tested and approved by parents. 
If your baby is just starting with solids, don't forget to check our complete guide on solid food introduction. Bon Appetite!
The purpose of this article is informative and educational only. It's not a substitute for medical consultation or medical care. We do not accept any responsibility for any liability, loss, or risk, personal or otherwise, incurred as a consequence, directly or indirectly, from any information or advice contained here. Babycious may earn compensation from affiliate links in this content.