These are the breastfeeding accessories you need to get you through the most rewarding experience in the most comfortable and hassle-free way.
The products mentioned on this page were independently selected by Babycious editors. As an Amazon Associate, Babycious may earn a commission from qualifying purchases.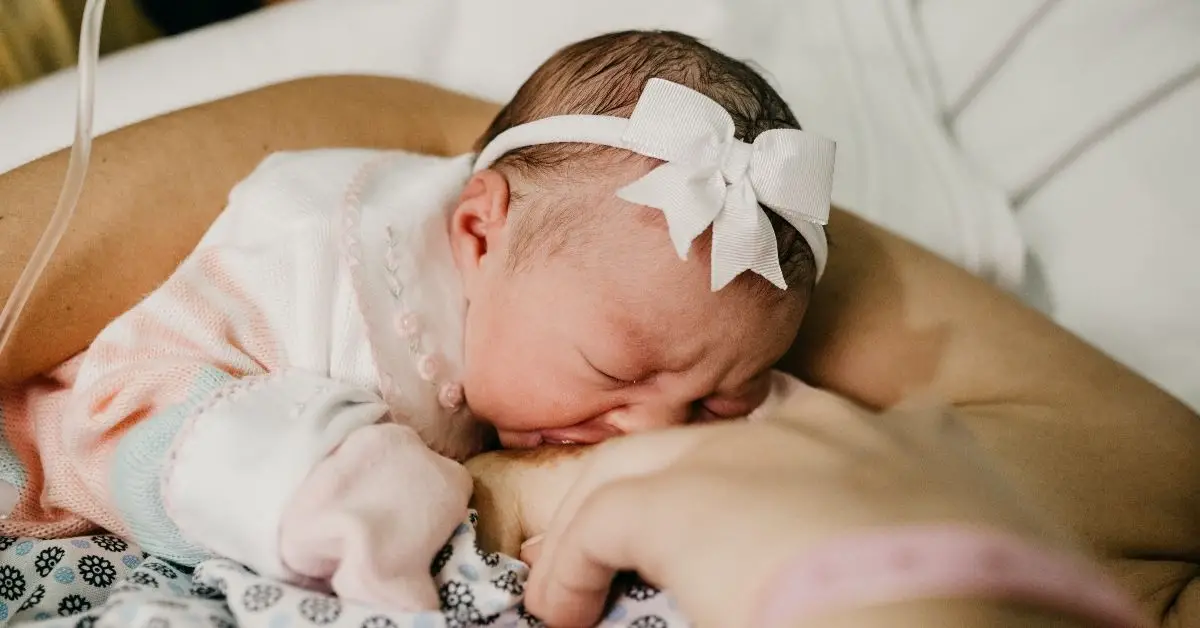 Countless breastfeeding journeys are prematurely stopped because of lack of support. While the AAP recommends moms to breastfeed for at least a year, fewer than 5% of moms in the US make it to their baby's first birthday.
You would think that a process as natural and intuitive as breastfeeding would not need anything besides your breasts and your baby.
While it is true, you would be making this experience much easier and pain-free (hello cracked nipples) with the right advice from experienced moms (or a breastfeeding consultant in some cases) and with the help of tested and approved savior items.
In this article, we have gathered the essentials for you to comfortably breastfeed your baby and enjoy building that special bond together without worrying about mishaps and issues that are totally preventable if you make use of the right breastfeeding accessories.
Our carefully handpicked items will get you through the early months and will surely help you make your breastfeeding goals a reality.
Why Do I Need Any Accessories for Breastfeeding?
If you are a first-time mom determined to breastfeed your baby, kudos to you!
The most important thing you need for a successful breastfeeding journey is your determination to actually do it, knowing that you will offer the most precious nutrition to your baby.
With that being said, (take it from a mom who's been through it) you are looking at hours and hours and more hours of nursing. You will want to make these hours as comfortable and enjoyable as you can, especially in those hectic few weeks where you are still trying to get used to the whole process and steadily establishing your milk supply.
Must Have Breastfeeding Accessories
A Comfortable Nursing Bra
A nursing bra will provide extra support for you while you are breastfeeding. it will also help prevent your breast milk from seeping through your clothes
You might want to start wearing one even before giving birth to your baby. In fact, the changes in your breasts may start to appear as soon as the second Trimester or sometimes towards the end of the first trimester.
You will then notice that your breasts get heavier and larger so you will want some extra support for your breasts.
Nursing bras usually come with clasps or hooks so you can access your breasts easily for feeding your baby, but it is not always necessary.
What you need to look for is flexibility for the size fluctuations, padding for extra milk leak protection, and of course a bra that provides easy access to your breasts at all times.
A seamless nursing bra will best accommodate the change in your breast size, which you may notice before and after nursing and through the course of the period during which you will breastfeed your baby.
This seamless nursing bra from Cake Maternity is ideal if you don't need a lot of support. It has high spandex content making it extra resistant to stretching and you can even sleep in it. That's how comfortable it is.
If you need more support and lift from your nursing bra you can choose an underwire nursing bra. This underwire nursing bra from Bali has just enough padding and comes with a flexible underwire.
If your first concern is comfort then look for a wireless nursing bra. This one from Playtex offers a surprising amount of structure and support.
Nursing Pads
Nursing pads are especially useful at the beginning of your breastfeeding journey. That's when you will likely experience the most milk leaks while your milk supply is getting adjusted to your baby's needs.
Some moms only experience leakage for a few weeks while others deal with leakage as long as they are breastfeeding their baby.
Placing the nursing pads inside your nursing bra, especially if you're going to be away from your baby for a few hours or if you have a lot of milk coming in. This will help keep your clothes clean from stains and free your mind from worrying about possible leakage.
Choose soft and absorbent nursing pads that will allow your skin to breathe and be sure to change them whatever they get wet, to steer away from any nasty nipple infections.
You can use either disposable nursing pads or reusable ones.
Reusable nursing pads are great for the environment, for your pockets, and also for your skin since they are usually made from cotton or other gentle fabrics. These fast dry reusables are a great option since they feature three layers of ultra-absorbent bamboo backed with a waterproof layer to prevent leakages.
On the other hand, disposable nursing pads like these Lansinoh pads are more convenient for travel and come in various shapes and materials PLUS you can simply discard them whenever they are wet.
How Many Nursing Pads Will I Need?
For reusable nursing pads, we recommend that you start out with six sets and go up from there depending on your needs.
If you decide to go with disposable nursing pads we recommend that you get at least two boxes of 60 pads each. This will get you covered for at least the first 3 months of breastfeeding.
Nipple Cream
Breastfeeding especially in the first weeks can be hard on your nipples. You may experience some dryness, itchiness or in some cases even bleeding.
The good news is this is mostly preventable if you regularly use a nipple cream before and after nursing.
Good nipple cream will protect your nipples and calm any soreness or irritation that comes with breastfeeding.
Choose a nipple cream that contains organic ingredients known to soothe and alleviate dry skin such as coconut oil and shea butter.
This natural balm conveniently named "calm your nip" is approved by breastfeeding moms because it provides instant relief for irritated nipples, and is safe to use for your baby too so there's no need to actually wipe it off before every feeding.
You can also go with a Lanolin-based cream like the Lansinoh nipple cream since lanolin provides a great protective barrier known to soothe skin, lips, cuticles, and other areas subject to dryness. You should be aware though that a lanolin-based cream is a refined product and is not certified organic.
If you feel the need for extra moisture and still want a natural product, take a look at this Bamboobies nipple balm made from olive oil and a few other natural ingredients. We like that it spreads evenly and provides a comforting relief due to its high moisturizing action.
Muslin Cloths
Muslin cloths are a must-have for all moms, not only breastfeeding moms. The things you can use a muslin cloth for are endless.
From wiping random milk spills to shade covers, to a makeshift teether .. these little tags of cloth will prove to be a godsend. so make sure you get your stash ready.
If you're wondering what a muslin cloth is, it's a plain-woven square of cotton or bamboo fabric that comes in various weights and sizes.
The standard and most commonly used size is 60cmx60cm or 70cmx70cm square which is just enough for handy cleanups. These muslin squares from LifeTree are ideal for nursing, and they come in really cute prints.
You can also get yourself some extra large muslin cloths that come in 120cmx120cm squares, this size is great if you're planning to use muslin squares for swaddling your baby or to use as a soft little blanket. This bamboo muslin blanket is super-soft and is available in the cutest designs.
When I first had my baby I only got a set of 3 medium-sized muslin squares, but soon I found myself buying more and more in various sizes. I now consider getting a stash of muslin squares the number one hack for new moms.
So if you want to save yourself the reorders we recommend that you get 2 sets of 3 medium-sized muslin squares each and 2 extra-large muslin squares to get you going.
I just can't emphasize enough that you cannot have too many muslin cloths.
A Breastfeeding Cover
If you want to preserve your privacy and avoid accidental exposure while breastfeeding your baby in public, you will need some kind of breastfeeding cover while you're out and about with your baby, or if you're having people coming over to your house.
Some moms feel more comfortable knowing that no skin (or nipple) is showing while they're breastfeeding in public.
Using a breastfeeding cover is also helpful if you have a baby who is easily distracted by their surroundings. It helps create a cozy little nest away from distractions.
You can actually use any piece of fabric that is large enough to cover both your upper body and your feeding baby. An extra-large muslin cloth does the job by the way if you want to keep your investments to a minimum!
If you have some extra bucks to spend, then you can go with a specifically designed breastfeeding cover that generally comes with convenient features such as adjustable neck straps and pockets like this one from Bebe au lait!
A Breastfeeding Pillow
Cradling your baby while nursing him can cause some strain on your neck and shoulders.
Using a breastfeeding pillow can provide some support and take some of the baby's weight off your arms.
Having a breastfeeding pillow will be helpful during those long nursing sessions. Pillows in general are helpful for supporting your back or arms and will help you get into the perfect position for you to nurse your baby.
A boppy pillow is a staple for nursing moms. It will allow you to get in a variety of positions to breastfeed your baby and you can also use it for tummy time.
If you're struggling to find the right position to feed your baby and need an adjustable breastfeeding pillow, try the Frida adjustable pillow. It has three levels of cushioning and includes back support.
What if Things Don't Go as Planned?
A Manual Breast Pump
We are not telling you to pump your breast milk just yet. But a manual breast pump is a small investment and could be very helpful to get your milk coming in the first few weeks.
Some moms, especially after undergoing a c-section, find their breast milk slow to arrive compared to moms who had a vaginal delivery.
Also, if for any reason you find yourself separated from your baby in the first days (either one of you needs extra care), you can start hand-expressing your milk in the first 2 days, and then switch to the breast pump.
Pumping your milk will stimulate your breasts to produce milk. You can use the breast pump every two to three hours until you can put your baby to the breast.
The manual breast pump allows you to be in control of how much milk you are expressing and you can stop and start easily.
Most breast pumps come with two operating modes, stimulation, and expression. Stimulation mode is great to help get your milk to start flowing, while expression mode is ideal to relieve engorged breasts.
Consider a compact breast pump like the Medela Harmony manual breast pump if you need a breast pump that is lightweight and can go easily in your diaper bag or in your purse.
Nipple Shields
A nipple shield is a flexible silicone device in the shape of a nipple that fits over your nipple during breastfeeding.
Nipple shields are usually recommended for moms with inverted or flat nipples or in cases where your baby fails to effectively latch onto your breast.
These nipple shields from Medela have an innovative cut-out shape to help maximize the skin-to-skin contact surface while you are nursing your baby. They come in three sizes you can choose from depending on the size of your nipples.
Please note that nipple shields are a short-term solution and are therefore only recommended within the first few days following birth and should be used under the guidance of a breastfeeding consultant.
Cooling Hydrogel Pads
If despite using a nipple cream diligently before and after nursing, you're still having sore nipples issues, you can find relief in using nipple covers.
Nipple covers are pads containing cooling hydrogel that are meant to soothe and protect tender nipples against friction from fabric rubbing.
These gel pads from Lansinoh contain hydrogel made from glycerin and have a soft cotton backing to help with friction. We love that each pad can be reused for up to 3 days and you can store them in between uses in a tray that comes within the box.
Non-Essentials… but You'll Thank Us Later!
A Haakaa Milk Catcher
This budget-friendly little item was a game-changer for me.
There is a bit of a learning curve to using a Haakaa, but once you get the hang of it, it is pure magic.
A Haakaa is a one-piece device designed to stick to your breast and collect the letdown you get while your baby is nursing. You will be surprised at how much milk you can collect with it on one side while nursing your baby on the other side.
For optimal attachment and suction effect, squeeze the bottom of your Haakaa to get rid of excess air and fold the flange back. Then place it over your nipple and release your squeeze and the flange into position.
This Haakaa is made of 100% food-grade silicone and is dishwasher safe, and can hold up to 4 ounces of milk. It is a hassle-free way to get a little stash of breastmilk for when you need it later.
A Nursing Chair
Choose it carefully as this will be your headquarters for (hopefully) many months to come.
We firmly believe that you deserve to put your feet up and completely relax during that precious bonding time with your baby!
You can treat yourself and get a dedicated nursing chair like this one from Stork Craft that will give you the utmost comfort thanks to its adjustable backrest and matching footstool.
You can also go with a non-dedicated nurse chair, especially if you're on a tight budget. The Poang chair from IKEA  will give you the most bang for your buck. In fact, many moms swear by it because of its thought-out design and a slight bounce, or you can get the rocking version and matching stool for a better relaxing experience.
A Water Bottle
You probably know how important it is to stay hydrated and it is more important than ever when you are breastfeeding.
Breast milk is a liquid that contains more than 80% of water, especially the foremilk that comes at the beginning of every nursing session. This is why you should breastfeed your baby whenever you feel that your baby is thirsty, as they do not need any water or other liquids before they are 6 months (yes, even when it's hot).
So in addition to your body's requirements, you will need to drink more water to keep up with the liquid that goes out of your body. You should also know that your hydration level directly affects your health, your skin, and your mood.
A water bottle is, therefore, a MUST, and you'll want to keep one within reach throughout the day and night so that you can drink moderate amounts of water whenever you feel the need.
We love the Hydroflask which comes with a straw lid and a little handle and is perfectly leakproof. And most importantly, it will keep your iced water cold all day according to many users.
If you want to keep up with your hydration goals of the day, this glass water bottle has time markers to track how much water you are drinking and has encouraging words to cheer you up and drink some more.
Your Favorite Snacks
And if they are healthy, then all for the better! Here are some yummy and healthy options from Healthline.
Breastfeeding is energy-consuming, and you'll find yourself constantly craving things to eat while nursing. That is completely normal as your body requires 500 extra calories each day to produce milk for your baby.
In addition to healthy snacks, don't forget to treat yourself to iodine and choline-rich foods such as eggs, meats, beans, and lentils, which your body needs more during lactation!
Before You Go: Our Printable Checklist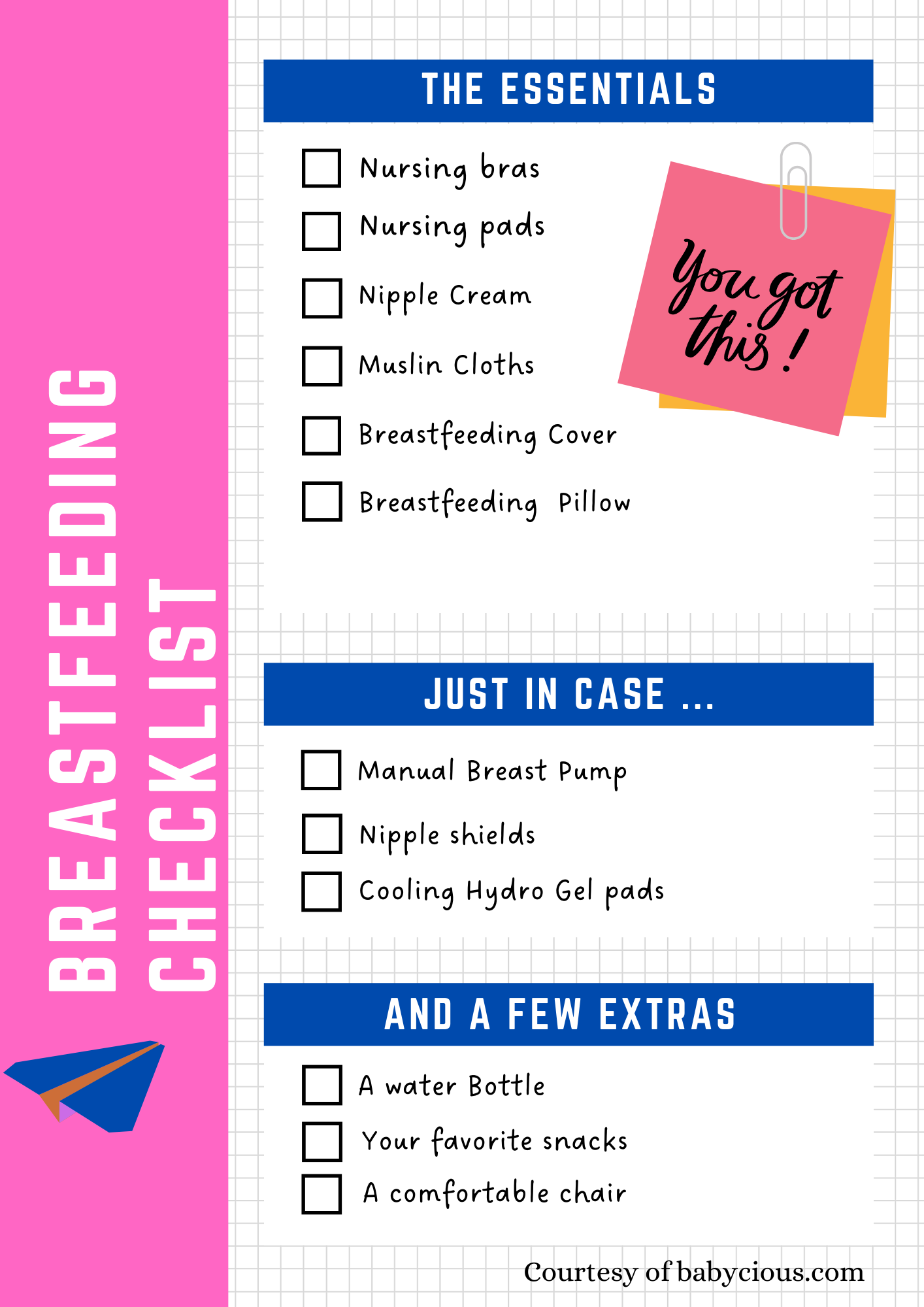 Click here to download and print this checklist.
and happy breastfeeding!
The purpose of this article is informative and educational only. It's not a substitute for medical consultation or medical care. We do not accept any responsibility for any liability, loss, or risk, personal or otherwise, incurred as a consequence, directly or indirectly, from any information or advice contained here. Babycious may earn compensation from affiliate links in this content.