Are you looking for the best baby scale to keep an eye on your baby's weight? Here are our top picks.
The products mentioned on this page were independently selected by Babycious editors. As an Amazon Associate, Babycious may earn a commission from qualifying purchases.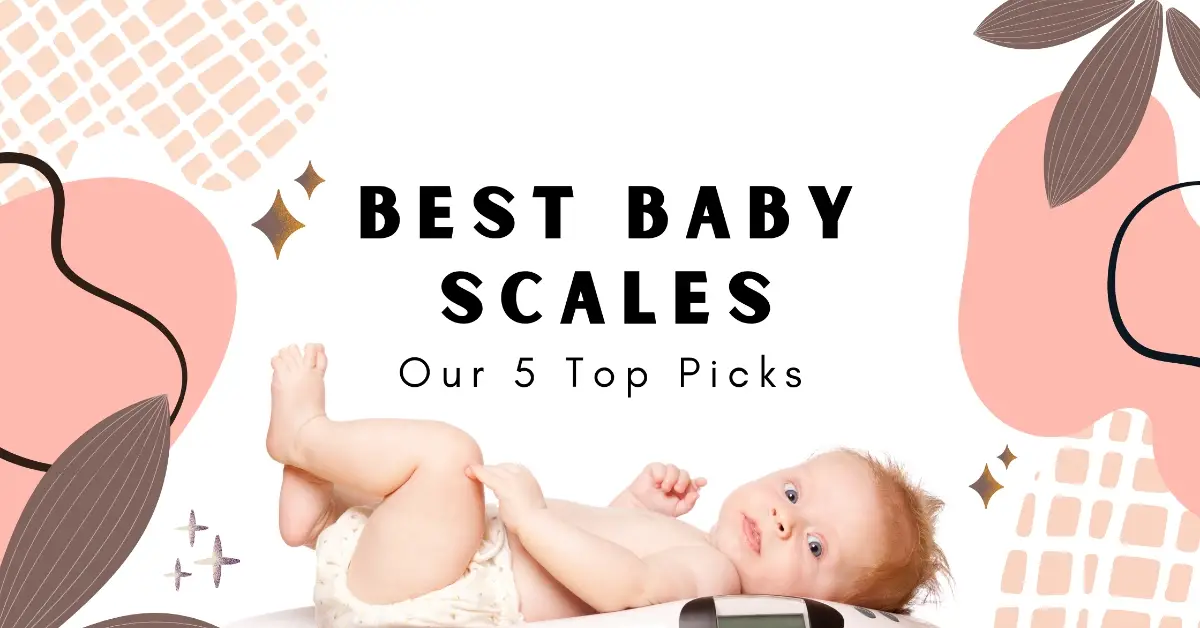 Are you a worried mama asking yourself daily if your baby is gaining enough weight and developing correctly? If so, getting a baby scale will buy you peace of mind that is priceless. 
Not all baby scales are made equal, some are more accurate than others. But, the baby scales that we have selected are designed specifically for infants and can provide you with accurate weight measurements that will help you keep track of your child's growth. 
In this blog post, we will discuss the best baby scales on the market and help you choose the right one for you!
Our Top Picks
Looking for a quick recommendation for the Best Baby Scales? Here are our top picks:
The Best Infant Scale For Babies
What we love
This baby scale will work just great for tracking your baby's weight in those challenging first months of life all through the toddler phase, and then you can use it for weighing your small pets!
The precision you will get with this baby scale is the best we've found in this price range! Unlike most baby scales that increment by 0.5 oz, this baby scale increments by 0.18 oz (that's around 5 grams). We know that this accuracy matters, especially for newborns!
We also love the hold option! This is so handy if your baby won't stay put (like pretty much all babies!). It will wait until your baby settles before it locks in on a reading.
For a more accurate reading, this baby scale has a tare button that allows you to zero out the weight of items other than your baby, like diapers or blankets.
Also, the measuring tape tucked on the side is an excellent addition! And it reminds you to also keep track of your baby's height along with the weight.
Please Note
This baby scale allows you to read your baby's weight in pounds, ounces, or kilograms. Please note that it does not give weight in pounds and ounces. So if you're looking for precision with pounds and ounces, you gotta do some math (or convert the weight with a phone app!).
While this baby scale provides great weight readings for tracking your baby's weight, it might not be helpful in weighing feedings if you are breastfeeding.
The Best Smart Baby Scale
What we love
This is an excellent versatile baby scale for keeping track of your baby's weight between well-baby visits. 
We love the convenience and high functionality this baby scale provides. The fact that it comes with Bluetooth makes doctor's appointments so much easier since you get all the weights of your baby on your phone using the App!
Parents report that this baby scale is very accurate. You can easily switch between different units of measurement (Kilograms, Pounds, Ounces). 
The baby tray is removable, so you can also use it as a standard scale for weighing up to 66 pounds. 
The tare function is a great feature. It allows you to add a blanket on the tray and zero it out before adding your baby. This provides some cushion for your baby and is nice to have on cold days.
We love that the packaging is really nice and giftable. So this baby scale can also be a great gift for expectant parents!
Please note
In order to get accurate measurements, this baby scale is meant to be used on hard floors, not on fluffy carpets.
The Best Baby Scale For Ease Of Use
What we love
This baby scale is great for monitoring your baby's weight gain all the way to toddlerhood since you can remove the tray and use it as a standing scale. So you're not wasting money on something you'll only use for a very short while.
We love that this baby scale is very easy to use and very easy to clean. You can keep using this baby scale after your baby grows out of the tray. It supports a toddler's weight up to 60 lbs!
The hold feature makes weighing a squirmy baby a piece of cake. Because the weight keeps changing as your baby moves, this feature is great for better accuracy.
This baby scale is equipped with a wide LCD display that makes it easy to read your baby's weight even in poor lighting conditions. 
We also love that this scale comes with a 5-year warranty. So you can rest assured that you will use this baby scale for a long while without worrying about it going bonkers! And that's why we feel very comfortable recommending this baby scale to you.
Please note
As with any baby scale, we advise that you watch your baby at all times when you put them on the scale in case they try to wiggle out or roll over.
The Best Baby Scale For Weighted Feeds
What we love
This scale was specifically designed for babies. It features a large, smooth platform with curled edges that comfortably cradles your baby.
With a 0.25-ounce (or 10 grams) accuracy reached within seconds, this baby scale is perfect for parents who want to keep track of their child's weight accurately and easily and get an idea of what the baby weighs between doctor's visits. 
If your baby is losing weight right after birth, this smart device will give peace of mind to being able to track their weight in between doctor's visits.
The Smart Weigh Baby Scale also has a capacity of up to 44 pounds, making it perfect for larger babies, and it comes with an easy-to-read backlit display.
We love that this baby scale has an auto-off function to save power and the tare button allows you to zero out the scale when weighing multiple items like blankets or diapers.
Please note
If your baby likes to move around, the weight sensor might keep changing every time they move, making it hard to get an accurate reading until you get your baby to stay still.
The Best Baby Scale For Breastfeeding On A Budget
What we love
We love this baby scale for breastfeeding moms. If you have a newborn having trouble transferring enough milk from nursing and you want to make sure they are gaining weight, this is a very nice, sturdy scale that gets you the answers you need.
This scale does exactly what you would expect it to do. It is accurate (according to moms and pediatricians who took the time and effort to compare it against hospital-grade scales); it weighs in .1-ounce increments and zeros quickly.
We love how this scale will lock onto a weight after a few seconds, regardless of how much your baby squirms.
This Greater Goods basic baby scale is the same as the Greater Goods smart baby scale we reviewed earlier, except that it is not connected. So if you are not interested in the smart feature and still want the accuracy of the greater goods scale, you can absolutely go with this one. And you will save some bucks also!
Please note
This is also a relatively inexpensive scale for new parents who are already spending so much on baby gear but gives enough accuracy to put your mind at ease and breastfeed with ease.
Our Verdict
After a lot of research on different baby scales, we found that the Greater Goods Smart Baby Scale seems to have the best reviews. This baby scale has so many helpful features, including Bluetooth and app integration, historical weight graphs, and a large platform for your baby to lay comfortably in. This makes it an excellent choice for connected breastfeeding moms and for concerned parents in general. If you are looking for an at-home baby scale to keep track of your baby's growth, you can't go wrong with this one.
Still not sure?
Are Home Baby Scales Accurate?
Compared to hospital-grade infant scales, home baby scales are accurate to within half an ounce. That's usually enough for most parents, but if you need accuracy down to the gram or quarter ounce, then an expensive hospital-grade scale may be a better choice, or you could maybe make a trip to your lactation consultant or pediatrician once in a while.
So, how Do You Know if Your Baby Is Gaining Enough Weight?
If you're worried that your child may not be gaining weight appropriately, don't panic! Many babies have their growth spurts and lose some ounces before they gain more back later.
Weighing your baby regularly is essential because it lets you know that they are getting enough nutrition and not losing too much weight after birth! A newborn's weight should double by four months and triple by their first birthday.
If your baby's weight is below the fifth percentile for their age, or if they lose more than five percent of their birth weight, then you should talk to your pediatrician. They may want to do some blood work or an ultrasound to check your baby's overall health.
How to Choose the Best Baby Scale?
There are a few things that you should look for when choosing the best baby scale. Here's what to consider:
How accurate is it? The most important thing about any weighing device is its accuracy. You want one with an error margin of fewer than 0.25 ounces (about seven grams). This means that even if your baby moves around a bit on the scale, you'll still get an accurate reading.
What's the maximum weight capacity? Not all babies weigh the same at birth – some are tiny, and others are on the larger side. Make sure that the baby scale you choose has a weight capacity that can accommodate your child as they grow.
How easy is it to clean? Your baby may have a diaper blowout or spit up on the scale, so make sure that you choose one that's easy to wipe down and sanitize between uses. You want something with smooth surfaces that won't collect grime over time as fabric-covered scales might.
Is it battery or mains powered? Some baby scales run on batteries, and others plug into a wall. A battery-powered scale is more convenient because you can move it around the house, but you'll need to replace the batteries whenever they die out.
Does it have a backlit display for nighttime weighing? This is a nice feature to have if you plan on using your scale at night.
The purpose of this article is informative and educational only. It's not a substitute for medical consultation or medical care. We do not accept any responsibility for any liability, loss, or risk, personal or otherwise, incurred as a consequence, directly or indirectly, from any information or advice contained here. Babycious may earn compensation from affiliate links in this content.