Wondering how many layers your newborn baby should wear? Check out our guidelines and tips to dress your newborn comfortably at all times.
The products mentioned on this page were independently selected by Babycious editors. As an Amazon Associate, Babycious may earn a commission from qualifying purchases.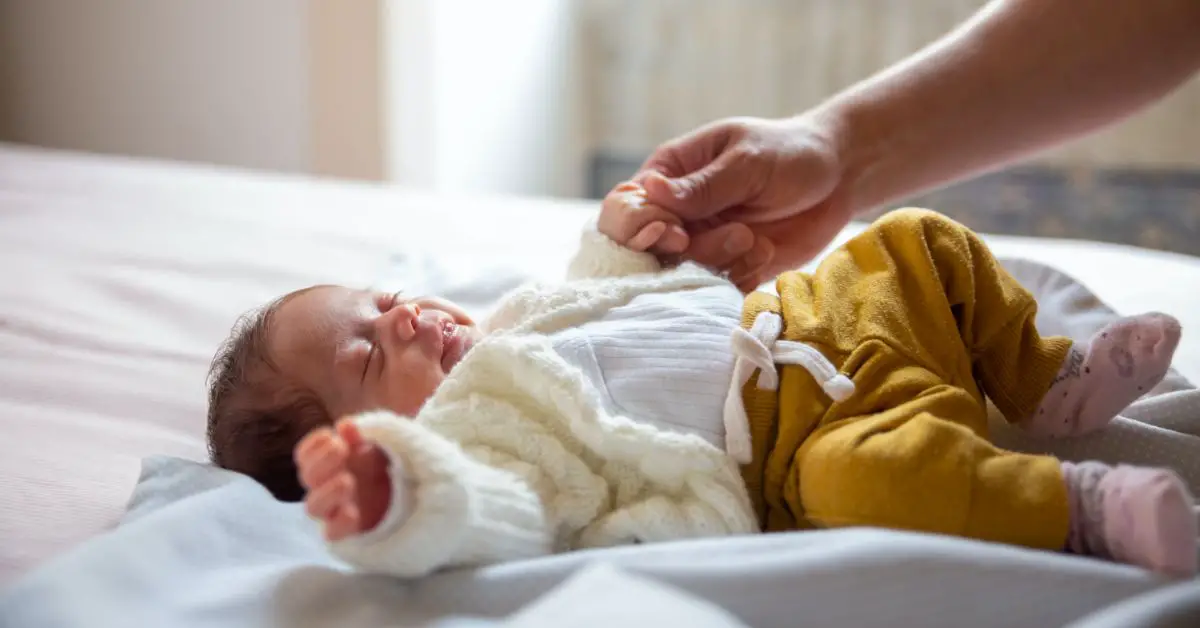 Onesies, sleepers, swaddles: newborn clothing can be confusing at first. Trial and error is one way to figure out the best way to dress your newborn baby, but in this article, I will share with you some guidelines and tips that I wish I knew when I first had my baby. These basic guidelines will make dressing your newborn a breeze, and will put your mind at rest knowing that your little one is comfortable at all times, so how many layers should a newborn wear?
As a rule of thumb, your newborn baby should wear one more layer than you. So if you're feeling comfortable sleeping in pajamas and a blanket, your baby should be wearing a onesie, footed pajamas, and a swaddle.
Keep in mind though, that this is a general rule that works for most babies, but not all babies are the same. Some babies may run hotter or colder than others and need fewer or more layers, depending on their environment and their preferences. If your little one runs hot (like mine), you may need to adjust the number of layers accordingly.
Guidelines for Dressing Your Newborn in Layers
Below is a chart that breaks it all down for you, so that you can get a sense of the number of layers your newborn baby should be wearing, depending on the season and the night/day situation: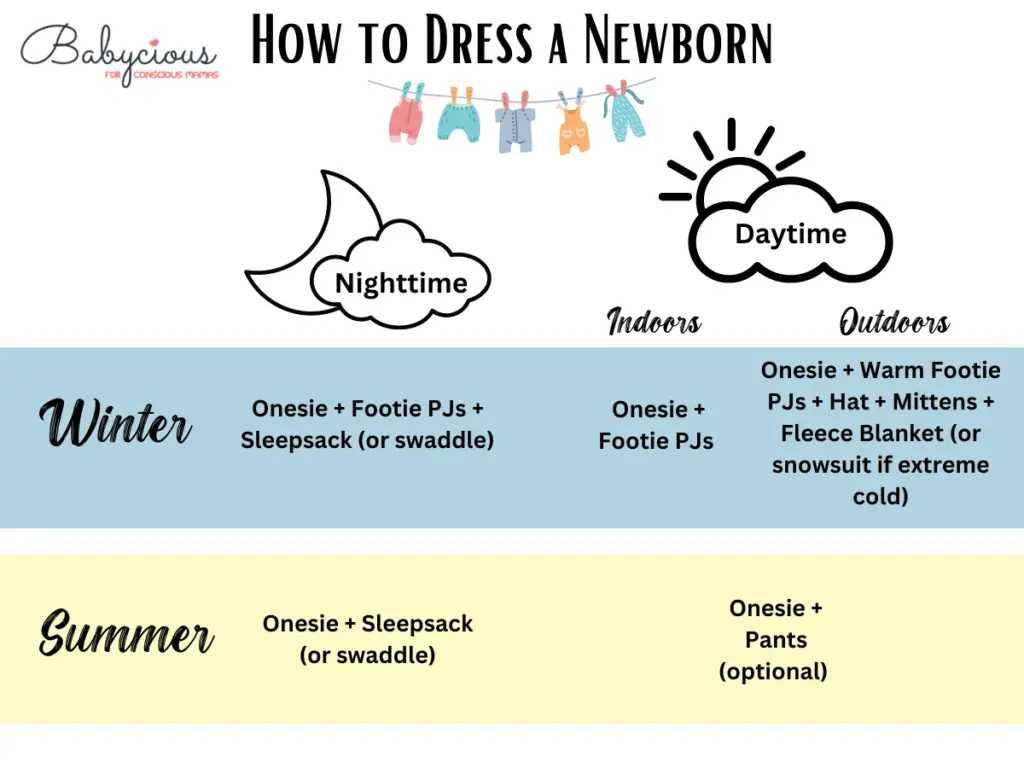 Layering in The Winter
During the colder months, it's important to keep your newborn warm and cozy. However, this doesn't mean you need to add too many layers of clothing that will end up making your little one too hot.
For the winter season, if you're keeping your house heated at around 68 degrees (20°C), your newborn should be sleeping in a onesie, footed pajamas, and a swaddle. If you are going out, you should add a hat, a pair of mittens, and a fleece blanket, or you can dress your newborn in a snowsuit if you're living in a cold climate.
Remember that your newborn baby shouldn't be out for anything longer than door-to-door distances if the temperatures are below 10 degrees (-12°C) outside.
Layering in The Summer
In the warmer months, you want to make sure you're not over-dressing your little one.
A onesie and a light swaddle should be enough for sleeping at night, and during the day, a lightweight onesie with some pants should do. If it's a particularly hot day, you can even opt for keeping your baby in just a light cotton onesie.
When in doubt, remember the general rule of thumb: one more layer than what mom is wearing. This will help ensure that your little one is comfortable, safe, and happy no matter what the season or temperature is!
Building Those Layers Up
You may have already noticed a pattern when it comes to dressing your newborn. You start with a onesie and you build your way up to a swaddle or fleece blanket. When building layers for your newborn, you must make sure that the items are breathable and not too tight.
The Onesie/Bodysuit
The most important layer is the onesie because it keeps your little one's skin dry and comfortable. That's the closest layer to their skin so it should be made of a soft, breathable material like cotton. This will keep them comfortable without overheating and help prevent skin irritation. The onesie also acts as a protection against irritative elements such as tags, snaps, and zippers.
For the summer, these light short-sleeved onesies from amazon were a must for my daughter, and I loved that they came in so many colors and prints to choose from.
For the winter, you can start layering with long-sleeved onesies to add some warmth to your baby's outfit.
The Footed Pajamas
The next layer is the footed pajamas. These are another staple of newborn clothing that is so convenient and comfortable for sleeping in or daytime playing. The footed part of the pajama keeps your little one's feet warm and clean, so there's no need for socks (that keep falling off and getting lost anyway!)
Always choose footed pajamas that are made with a soft, breathable material like cotton or wool. These double-zippered footed PJs from Amazon are my top pick because the fabric has a nice thickness to it and a little bit of stretch which makes them great for year-round use.
The Pants
Pants are an optional layer that you can add right after the onesie. You can either add pants as a layer under the footed pajamas for extra warmth or have them be the final bottom layer in the warmer months.
When looking for pants, cotton is still the best choice as it allows your baby's skin to breathe and prevents irritation. I love these soft and functional pants because they have easy pull-on waistbands and I could match them with the onesies that I have recommended above and create fun comfy outfits for my daughter.
The Swaddle or The Sleep Sack
If you have read some of my posts where I talk about baby sleep, you know that blankets (or any loose items for that matter) had no place in my baby's bassinet! To keep your newborn warm when sleeping, you should use either a swaddle blanket or a sleep sack if they have started showing signs of being able to roll over.
If you choose to swaddle your newborn baby, make sure to use a thin cotton muslin swaddle that is lightweight and breathable for the summer, or a thicker swaddle if it's cold.
Sleep sacks are extremely useful once your little one graduates from the swaddle. The sleepsack you put your baby in for sleep should be adapted to the temperature as they are available in various warmth indexes (going from 0.5 TOG for the lightest sleepsacks to 2 TOG for the warmest). But if you're like me and don't want to bother with TOGs, getting a sleep sack made from wool like Woolino is a good investment since it can be worn all year round and can be used for up to 2+ years. Here's my review on the popular sleep sack to know more before making a decision.
The Hat and Mittens
When going out with your newborn baby, you should also think about adding a hat and mittens, if it's cold outside. Just make sure that the size of the hat is good for your baby's head, the hat should fit snuggly without compressing it. Mittens should also be made of a breathable and soft material, like cotton, to prevent skin irritation.
The Snowsuit
If you live in a place that gets cold and snowy, then you should also invest in a snowsuit if you plan on taking stroller walks with your baby. Snowsuits are specially designed to keep your baby warm and dry in the cold weather. They usually come with an attached hood, mittens, and booties to ensure that your little one is fully protected from all the elements.
Better Too Cold than Too Hot
I can't talk about dressing your newborn without addressing the dangers of overheating. A saying that stuck with me since my early days of motherhood is "If baby is too cold they'll cry, but if baby is too hot they die", and that is a terrible way of saying that overheating is one of the risk factors of SIDS. The reason for this is that babies can't regulate their body temperature like adults do, so the room temperature and your baby's outfits should be carefully monitored.
The easiest and most accurate way to tell if your baby is too hot is to check the back of their neck with your fingers. If it feels hot, your baby is too warm and you should take off some layers of clothing.
Keep in mind that hands and feet are not reliable indicators of your baby's body temperature and therefore shouldn't be used as a gauge. Babies' hands and feet are often cold to the touch regardless of how warm they actually are just because of bad circulation.
When Do Babies Stop Needing that Extra Layer?
In general, most babies stop needing the extra layer of clothing when they turn 6 months old. You can then start putting your baby in the same amount of clothing you find yourself comfortable wearing. but the golden rule will always be to trust your instinct.  If you find that your baby is getting too cold, then add another layer, and if they're sweaty or uncomfortable, take off a layer.
Bottom Line
Dressing your newborn baby can be tricky at first, but with the help of the guidelines we discussed in this post and by trusting your instinct you'll soon get the hang of it.
Remember to always use lightweight and breathable fabrics for swaddles, sleep sacks, and clothing. When taking your baby outside, add a hat and mittens if needed. And don't forget that for babies, better too cold than too hot!
The purpose of this article is informative and educational only. It's not a substitute for medical consultation or medical care. We do not accept any responsibility for any liability, loss, or risk, personal or otherwise, incurred as a consequence, directly or indirectly, from any information or advice contained here. Babycious may earn compensation from affiliate links in this content.