Wondering how many receiving blankets do you need to buy for your new little one? Find out the answer and more in this post about everything you need to know about receiving blankets.
The products mentioned on this page were independently selected by Babycious editors. As an Amazon Associate, Babycious may earn a commission from qualifying purchases.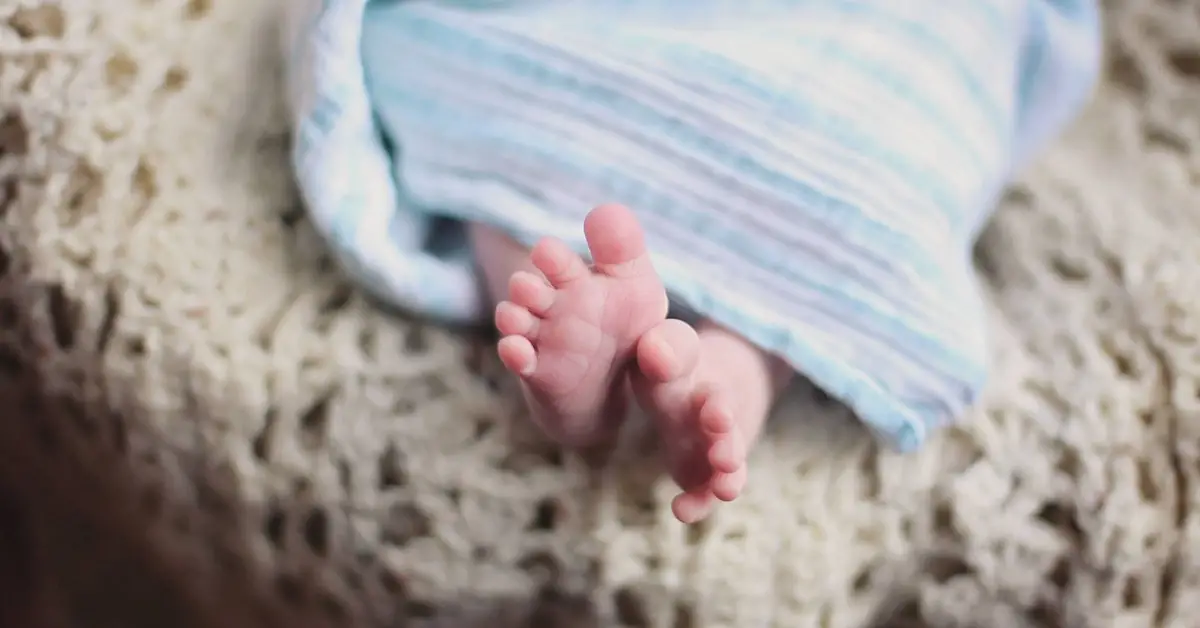 Receiving blankets are the swiss army knife of a mom. The amount of liquids you encounter in the first months is enough to justify having dozens of receiving blankets. But how many receiving blankets do you need exactly?
It's good to have 6 receiving blankets on hand if you're going to do laundry every day or so. If you're planning on doing laundry only once a week, consider having about 10 to 20 receiving blankets.
10 receiving blankets will cover you throughout the week if your little one hardly ever spits up but you'll go through your receiving blankets a lot more quickly if you have a heavy spitter/pukey baby.
That being said, your mileage could vary a lot depending on how much your baby spits up or what you end up using your receiving blankets for! That's why you'll find some moms recommending you only get 4 receiving blankets and other moms going through 10 receiving blankets a day.
If you're sending your baby to daycare, they normally like to have a receiving blanket on hand for naps so you'll need a couple more to rotate for daycare too.
You could use just a few receiving blankets repeatedly if your baby doesn't spit up much or isn't too messy. You could keep using the same receiving blanket as long as it doesn't have any fluids or dirt on it. But let's be real, babies are messy. And pukey babies are really the norm so it's better to have realistic expectations.
Receiving blankets are not only good for spit-ups though. I found them more useful than I expected. They are good for everything from spit-up to swaddling, to covering the changing pad! I actually made my husband run out and get another package of them on our first week home.
I ended up having about 12 receiving blankets on hand at all times and was going through them in a few days or so. Mostly because if you just get a few, you will be doing laundry more often.
My daughter spits up a lot so they were extremely handy. Plus, a baby's skin can get irritated from rubbing against our clothes (having traces of detergent and whatnot) so it's always good to have one that covers your arm and chest.
How Many Receiving Blankets Do You Need for Twins?
If you have more than one baby, you will want to have enough receiving blankets for each of your babies. This is because you will be using them for different purposes – like swaddling, covering the changing pad, and using them as a burp cloth. You will also want to have extras on hand in case one of your babies gets sick.
In the case of twins, you will need around 12-14 receiving blankets. This is because you will be doing a lot of laundries and you want to have enough receiving blankets on hand so that you can rotate them out. You will also want to have some extras in case one of the twins gets sick and needs a receiving blanket to cover them up.
Related: Best Double Bassinet for Twins – Top Picks for 2022
How Many Receiving Blankets Do You Need for The Hospital?
You will not need to bring any receiving blankets with you to the hospital. Unless you want to pack a nicer receiving blanket in your hospital bag for photos or a blanket that has sentimental value to your family.
Receiving blankets are a hospital staple. You will be given as many as you need when you are admitted to the hospital. And if you happen to run out, the hospital will provide you with more. So, you really do not need to bring any with you.
What Is a Receiving Blanket?
Before we go on talking about receiving blankets, let's first discuss what a receiving blanket actually is. As a first-time mom, I was really confused about what they were. I just knew from friends' recommendations that I needed them and I should have lots of them. So let's clear out the confusion once and for all.
A receiving blanket is a rectangular piece of fabric that is usually made out of thin cotton, muslin, or flannel. They are soft and lightweight, making them perfect for swaddling newborns. Receiving blankets can also be used as a burp cloth, changing pad cover, and more.
Why Is It Called a Receiving Blanket?
A "receiving blanket" is the blanket you "receive" your baby in when they are born at the hospital. It's a tradition that has been passed down for many years and one that new moms look forward to. The hospital will provide you with as many receiving blankets as you need and you will likely use them all during your stay. Most moms end up taking home a few extra blankies too!
What Size Should a Receiving Blanket Be?
Receiving blankets come in different sizes, but the most common size is a 36"x36" square. This size is perfect for swaddling newborns and using it as a burp cloth. You can also find receiving blankets that are larger or smaller, but the 36"x36" size is the common and the most versatile.
My advice is to get the biggest receiving blankets you can, but the others all can be useful. You can also have a mix of small and large blankets and you will use them all.
What Is the Best Fabric for A Receiving Blanket?
There are many different types of fabrics that you can choose for your receiving blankets, but I would recommend sticking with thin cotton, muslin, or flannel. These fabrics are soft and lightweight, making them perfect for newborns. They are also absorbent, which is a must-have quality for any receiving blanket.
For great value receiving blankets made of cotton, I highly recommend getting these from Carters on Amazon. They are a bit bigger than average, stretchy, and cozy. If you have a winter baby, these are great to throw on when cuddling. Also, they're super cute. And you get seven of them in one pack.
You can also find receiving blankets that are made out of fleece or wool, but I would avoid these fabrics as they are not as soft or lightweight as cotton, muslin, or flannel. They can also be a bit bulkier and harder to fold up small enough to fit in your diaper bag.
Can a Receiving Blanket Be Used as A Swaddle?
Large muslin or cotton receiving blankets that measure more than 36″x36″ (preferably more like 45″x45″) are actually great for swaddling. You can get a nice secure swaddle without overheating your baby.
Many moms swear by these receiving blankets from Aden + Anais for swaddling (amongst many other uses), which you can find on Amazon for a reasonable price. And for good reason. They are everything you can ask for in a receiving blanket: big, breathable, and stretchy. They are also by far the best for swaddling.
On the other hand, if you only have smaller receiving blankets, those can be annoying to use for swaddling. Actual velcro swaddles will be better, especially when you are in zombie mom mode. I especially loved the halo swaddles for when baby started using the sleep sacks.
Related: Swaddling Baby : A Step By Step Guide
11 Uses for Baby Receiving Blankets
Receiving blankets are so versatile. Perhaps the most versatile item you'll have on your baby registry. They make for great burp cloths, towels for quick messes, and just overall wiping cloths and SO much more. In fact, here are 11 different uses you can get out of your receiving blankets:
Use #1: Burp Cloths
This is the most obvious use for a receiving blanket and most likely the one that you will use the most. Receiving blankets are soft and absorbent, making them perfect for catching spit-ups and other messes. They are also easy to clean and can be thrown into the washing machine with no problem.
Simply fold a receiving blanket over your shoulder when you're burping your baby. Saves your shirt and keeps the mess off of your floor.
Use #2: A Mat to Lay Baby On
A very common thing you'll find yourself doing is having to put your baby down on the floor/ground/carpet while you're doing things around the house or outside. Whether you're at the park or you're over at someone's house and want a blanket to spread out for baby to play on or just trying to take a break for a second for any reason, it's always nice to have a soft clean surface for your baby to rest on.
Receiving blankets make great makeshift mats for this purpose. Simply lay the blanket out on the ground and place your baby on top. I also liked laying a receiving blanket in the pack n' play as an extra layer because my daughter was a happy spitter.
Use #3: Drape Over the Stroller
A receiving blanket is great to keep in your bag to use as a stroller curtain if it's really cold or windy. They also come in handy as stroller curtains when it's very sunny. For this purpose, muslin receiving blankets are awesome. They are lightweight and see-through so they will shield your baby from the sun without baking them!
Use #4: Nursing Cover
If you're breastfeeding your baby, a receiving blanket is the perfect makeshift nursing cover. It will help to keep your privacy and also keep your baby warm and cozy.
Simply drape the blanket over yourself and your baby while you're nursing. Make sure that the blanket is fully covering both of you, and tuck it in around your baby's neck to keep it in place.
Use #5: Car Seat Cover
Another great use for a receiving blanket is as a car seat cover. You can roll a receiving blanket up to keep your baby's head straight and it catches any spit-ups in a pinch.
A receiving blanket is also handy in the car seat when it's just a little cool outside and you don't want a big heavy blanket.
Use #6: Changing Pad Cover or Makeshift Changing Pad
The receiving blankets are very handy for diaper changes in and out of the house. You can use them as a makeshift changing pad if you're out of the house or as an extra layer on the changing pad. My daughter pees so often during her changes that I'd be changing the pad cover multiple times a day if I didn't use these. Whenever it gets messy, just grab another receiving blanket and it keeps your changing cover clean for a longer time.
Use #7: At Doctor's Appointments
Whenever you're going for a well-baby check-up, receiving blankets are great to have on hand. You can set aside some nicer clean receiving blankets to wrap your baby in. This will keep them warm and cozy since they usually need to be in a diaper.
Use #8: Cloth Diaper Flats
Receiving blankets make great cloth diaper flats for newborns. They are absorbent and soft and can be folded in any way that you need. I found that receiving blankets were much easier to use than the cloth diaper flats that I bought. And they're a fraction of the price! So you can use them whenever you run out of clean cloth diaper flats.
Related: Cloth Diapering 101 – All You Need To Know
Use #9: Swaddling
Swaddling is a great way to help soothe your baby and can be very calming. Receiving blankets are perfect for swaddling because they are lightweight and soft.
Use larger receiving blankets for swaddling if you want to use them for this purpose. However, any receiving blanket will work well.
Use #10: Playing Games
Here's how you keep using your receiving blankets beyond spit-ups and cleanups: use them as game props. We used the muslin blankets a little more often than the other types of receiving blankets and we were still using them at 9 months to play games with like the parachute game.
Use #11: Cloth Wipes
If after all the uses we discussed, you still find that you have too many receiving blankets. Here's an idea to turn them into something else: You can cut them up and use them as cloth wipes if you are cloth diapering.
How Long Do You Use Receiving Blankets?
You'll use your receiving blankets the most during the first 6 months of having a baby. At around 6 months, the digestive system of your baby starts to mature and there will be a lot less spitting up. You'll then continue using your receiving blankets but not as much as you did during the first 6 months.
A great idea to keep the memories of those first months alive is to quilt all your baby's blankets to make a huge floor quilt where he can play on. This is a DIY project that can be done by anyone and it will last for a long time!
Bottom Line
So, how many receiving blankets do you actually need? It really depends on your baby and your lifestyle. But 6 to 10 should do the trick! Just make sure that you have a receiving blanket on hand at all times during the first months of having your baby! They are so versatile and can be used for so many different purposes. And they're usually very affordable, so you can stock up on a few of them.
What are some other ways that you've used a receiving blanket? Share in the comments below!
The purpose of this article is informative and educational only. It's not a substitute for medical consultation or medical care. We do not accept any responsibility for any liability, loss, or risk, personal or otherwise, incurred as a consequence, directly or indirectly, from any information or advice contained here. Babycious may earn compensation from affiliate links in this content.