Worried about the safety of metal cribs? Here is what you need to know in order to make an informed decision.
The products mentioned on this page were independently selected by Babycious editors. As an Amazon Associate, Babycious may earn a commission from qualifying purchases.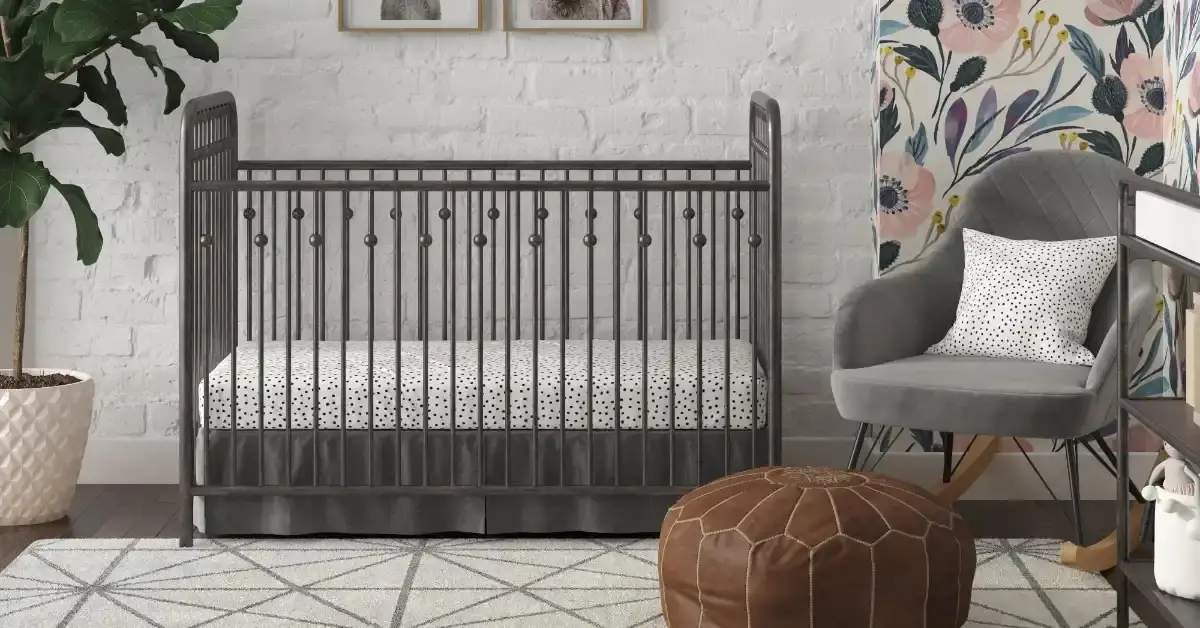 Is your heart set on a beautiful wrought iron crib? Many parents who are in the market for an iron crib are asking themselves if a metal crib is a safe choice for their baby.
In this blog post, we will take a look at the safety requirements for metal cribs, the pros and cons of using metal cribs, as well as what parents need to know in order to make an informed decision.
Are Metal Cribs Safe?
Metal cribs have been around for centuries and are still a popular choice for parents today. The first question that comes to mind for many parents when they are considering what type of crib to buy for their little one is whether it's safe or not.
The short answer is that metal cribs can be as safe as other cribs, provided that they meet all the safety requirements set by the Consumer Product Safety Commission (CPSC).
While there are no specific safety requirements for metal cribs, they must meet the same safety standards as all other cribs. The Consumer Product Safety Commission (CPSC) sets safety standards for baby products, and all cribs must meet the CPSC's 16 CFR 1219 standard.
These safety standards include a sturdy frame and slats that are close enough together so that a child cannot fit through them. 
The crib should also have a firm, tight-fitting mattress and no decorative cutouts on the side panels, which could trap a child's head.
Slats Distance
The slats and corner posts of a crib should be no more than 2 3/8 inches (6 cm) apart. This prevents your child from becoming trapped between the slats or posts.
You can actually measure that distance with a ruler to be sure when you're shopping for a crib or look up the manufacturer's specifications for this particular point. 
You can also do the "soda can test" on the sides of the crib, where you check if you can fit a soda can through the slats.
Tight-Fitting Mattress
The metal crib should accommodate a tight-fitting, firm mattress no more than 6 inches (15 cm) deep. This is to prevent your baby from becoming trapped between the mattress and the side of the crib.
The sides of the crib should also be snug against the mattress to ensure that there isn't any extra room for little hands or feet to get stuck between the mattress and crib.
No Decorative Cutouts
Make sure that the metal crib has no decorative cutouts on the headboard or the footboard that your baby could get their head or limbs stuck in. 
Also, be sure that all of the screws and bolts are tightened properly and that there are no sharp edges on the crib that could injure your baby.
What if Your Baby Chews on The Metal Bars?
This is a concern that some parents have when they are considering a metal crib. The good news is that the metal bars on most cribs are coated with non-toxic paint or finish that will not harm your baby even if they chew on them.
It is interesting to note also that babies are less likely to teeth on metal because it is a harder surface than wood, which makes it not very bite friendly. 
Your baby won't be able to sink their teeth into a metal bar like they might with a wooden slat.
Are Antique Metal Cribs Safe?
Is a neighbor or someone in your family offering to pass down a family heirloom metal crib to you? 
While it may be tempting to use a beautiful antique iron crib as your baby's sleeping space, especially if it has a sentimental value, it is important to keep in mind that old cribs are not a good idea for the simple reason that they are not as traceable as a new one.
Cribs that were made a long time ago may not meet the current safety standards that are in place. Safety requirements have changed so much in the past few years, and older cribs may not have the features that are required today.
The CPSC clearly advises against using cribs that are older than 10 years or cribs that are broken or have been altered in some way or another.
Say No to Drop-Side Cribs
After the CPSC's ban on drop-side cribs, they were recalled by the millions. But some parents are still using drop-side cribs, either knowingly or unknowingly. 
The problem with drop-side cribs is that the rails can easily be detached from the crib, which can cause your baby to fall out or become trapped in between the rails.
You may say that you can get the drop-side permanently screwed in place so it doesn't drop, but even if the drop side is fixed in place, these cribs can still pose a risk for older babies who may climb up using the drop side piece if they can put their feet on it.
Rust and Lead Issues with Old Metal Cribs
If the metal crib that you are hoping to use is older than 10 years, it is important to closely inspect it for any signs of rust. Rust can cause the crib to break and pose a serious threat to your child.
If you have an antique crib that you would like to use, it is best to have it professionally restored so that it meets all of the current safety standards.
You should also know that cribs manufactured before 1978 may contain traces of lead in the paint coating. Lead exposure can cause damage to a child's nervous system and can also lead to learning disabilities.
If you have an antique crib that is pre-1978, it is best to have it tested for lead before you consider using it.
All that being said, your baby will spend so much time in their crib. A lot of that time, they will be unsupervised, so we strongly recommend that you don't take any risk regarding the safety of the crib you intend to use for your baby. 
Antique cribs are, therefore, a big no-no. You can use the inspiration though to find a new metal crib with a similar style!
Pros and Cons of Getting a Metal Crib
There are a few advantages that metal cribs have over other types of cribs. 
For one, they come in stunning designs that can elevate the décor of your nursery more than their wooden or plastic counterparts.
They are also usually very durable and can last for many years with proper care. Additionally, metal cribs tend to be easier to clean than other types of cribs, which is certainly a plus for busy parents.
However, there are also some disadvantages to using metal cribs. One of the biggest concerns is that metal conducts heat, which means that the crib tends to get cold when the room gets cold and hot when the room gets warm.
Additionally, some parents worry about the weight of metal cribs as they can be more difficult to move around.
And lastly, if the thought of a pacifier clanging against the metal bars makes you cringe, maybe you should give this type of crib a pass.
What Parents Need to Know About Crib Safety
Just like with any type of crib, parents need to be sure to follow the safe sleep guidelines from the AAP (American Academy of Pediatrics). These guidelines include always putting your baby to sleep on their back, using a firm mattress that is the correct size for the crib, and not using any blankets or pillows in the crib.
Safety Tip #1: Put Your Baby to Sleep on Their Back
As always, the best way to keep your baby safe while they are sleeping is to put them on their back. This applies to babies who are sleeping in a metal crib, as well as those who are sleeping in any other type of crib.
Safety Tip #2: Use a Firm Mattress
A firm mattress is important for two reasons. 
First, it will provide enough support for your baby's spine.
Second, it will help to prevent your baby from suffocating if they happen to roll on their stomach while sleeping.
Safety Tip #3: Skip the Pretty Bedding
It might be tempting to buy some adorable bedding for your new metal crib, but it's important to remember that any soft bedding or blankets in the crib can be a suffocation hazard.
Bumpers are also a bad idea for the same reason.
Safety Tip #4: Check the Recalls
Even though metal cribs meet all the safety standards set by the CPSC, that doesn't mean that they are immune to defects. 
Be sure to check the CPSC website for any recalls on metal cribs before you purchase one.
Bottom Line
In short, when it comes to metal cribs, it is best to stick with newer models that meet all of the current safety standards. 
You can find some beautiful metal cribs that will perfectly suit your style and your child's needs without having to worry about their safety.
The purpose of this article is informative and educational only. It's not a substitute for medical consultation or medical care. We do not accept any responsibility for any liability, loss, or risk, personal or otherwise, incurred as a consequence, directly or indirectly, from any information or advice contained here. Babycious may earn compensation from affiliate links in this content.