Looking for the best bassinet with wheels? You've come to the right place! We cover a variety of different options, so you can find the perfect bassinet on wheels for your needs.
The products mentioned on this page were independently selected by Babycious editors. As an Amazon Associate, Babycious may earn a commission from qualifying purchases.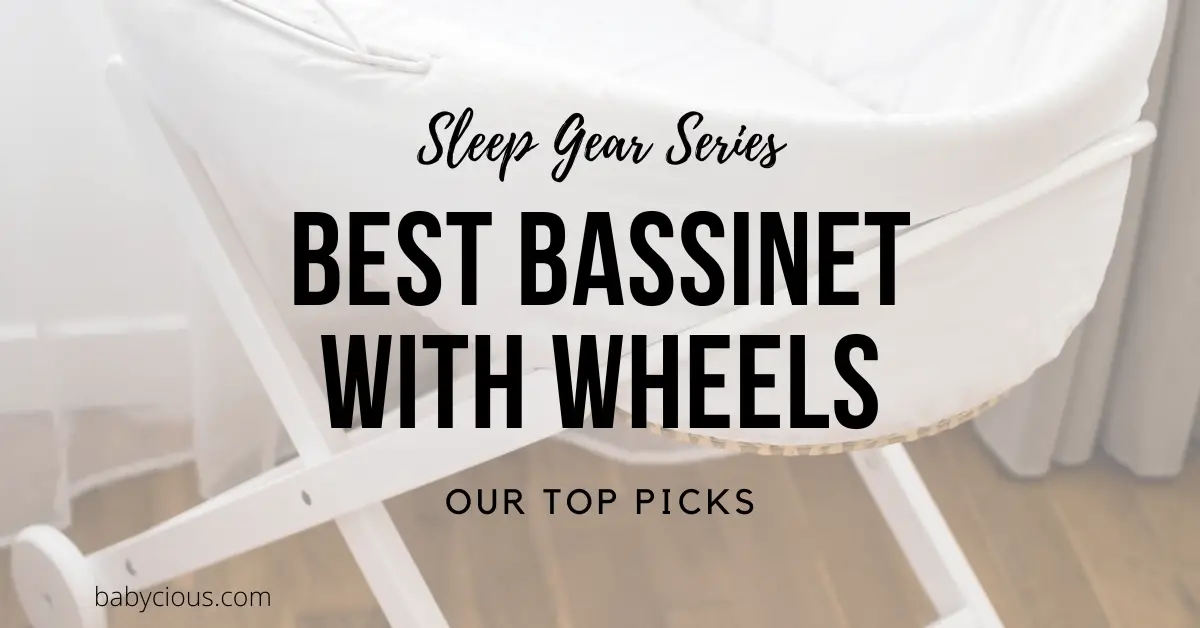 Looking for the best bassinet with wheels? You've come to the right place!
Getting a bassinet with wheels will definitely make life with a newborn a lot easier. It is an excellent option to consider if you are looking to minimize carrying heavy baby items around (which you should, especially if you're recovering from a c-section).
In this article, we have compiled a list of the top five bassinets with wheels for 2023 based on safety, sturdiness, and ease of movement. We'll cover a variety of different options so that you can find the perfect bassinet on wheels for your needs.
Whether you're looking for a traditional bassinet or something more modern, we have you covered! Keep reading for all the details!
Our Top Picks
Looking for a quick recommendation for the Best Bassinets on Wheels? Here are our top picks:
The Best Bedside Bassinet With Wheels
What we love
This bedside bassinet looks great and is easy to assemble. It is sturdy and secure. 
We love that it wheels around easily and that the wheel locks are strong so it won't accidentally roll off when you're using it with the side folded down. Plus, it comes with safety straps to hook under the bed mattress, so the bassinet does not budge. 
It has 7 different levels so that it will fit all beds! This will literally be like an extension to your bed, even if your bed is high.
The mattress that comes with the bassinet is firm without being too hard, and the cover is removable and washable. It even comes with a carry tote which will keep it clean for storage.
A mom who had a cesarean said that this bassinet made it easier for her to breastfeed her baby because she could just unlatch the baby bed wall, and it lays on the regular bed.
This bassinet is a great option if you need an easy way to have your baby close to you without sharing the bed.
Please note
The mesh doesn't go all the way around the bassinet.
Some parents found the mattress to be hard.
The Best Bassinet With Wheels And Changer
What we love
This bassinet is very handy with having a bed and changing table all in one. The changer is made from easy-to-wipe-clean fabrics and can be used up to 30 pounds (even after your baby no longer sleeps in the bassinet).
You can easily flip the bassinet into changing table mode. Moms found that better than adding a whole attachment on top of a pack and play with one hand.
But of course, the best feature is the wheels. 
You can wheel it to the living room, the kitchen, and back to your room or nursery with ease. It's very convenient to bring it wherever you need it and have a safe place to put baby down.
The two-speed vibration is a nice feature for soothing your baby (and for saving your sanity).
This cozy little bassinet allows airflow and visibility with mesh sides, blocks light with the canopy, and has soft toys for entertaining your baby.
It also has a large storage basket where you can keep wipes, a few extra diapers, a change of clothes, and swaddles, and it holds up just fine.
Bottom line is there is minimal assembly required, and it's easy to clean and move around as needed.
Please note
Some parents say the canopy does not stay down. 
The bottom rack is great for storage but is somewhat flimsy.
Switching from bassinet to changing table is pretty easy, but some parents said that switching it back with one hand was tricky.
The Best Bassinet With Wheels And Storage For A Small Budget
What we love
This is an affordable, simple, and easy-to-use bassinet, and it has wheels! The wheels make the bassinet easy to move around. It rolls on carpet and hardwood floors and also has a firm locking system.
Parents found this bassinet to be durable, safe, and roomy for the baby, easy to put together, all at an excellent price!
The neutral pattern is very nice and cute. The mesh windows allow for breathability, and the storage space underneath is very convenient.
This is an excellent buy for parents who want a functional, cute bassinet with wheels without spending much.
Please note
Some users commented on how it was wobbly but they probably didn't read the instructions and or they were not paying attention when putting it together.
The Best Bassinet With Wheels That Grows With Your Baby
What we love
We love the design of this bassinet; it's functional and beautiful. There are 2 modes of use for a baby's entire first year: bassinet and crib alternative, so you get to use it longer than other bassinets. That means it's also bigger than the other bassinets we reviewed.
The four wheels are lockable and convenient for moving the bassinet from room to room.
We love all the safety features: velcro down sheets/mattress, the firm mattress, and the mesh sides that go all around the bassinet for airflow and keeping baby in sight.
Plus, it has a built-in mechanism that makes soothing sounds for lulling baby to sleep and has a soft light for nighttime check-ins.
The adjustable bassinet matches the height of most beds and has storage pockets for keeping necessities nearby.
Please note
Because of the design of this bassinet, it's bound to have a bit of wiggle. 
Some parents found the mattress to be hard.
Being bigger than most bassinets, it can be hard to move from room to room.
The Best Bassinet With Wheels For Breastfeeding
What we love
This bassinet comes with 2 wheels that allow you to easily slide the base under your bed to keep your baby nearby while still giving them a safe, separate sleep space. 
We recommend this bassinet, especially for moms who are breastfeeding or recovering from a c-section. 
This bassinet is sturdy, and the 5 positions adjustable base fits next to almost any bed, so you can keep your baby at eye level, soothe them, and tend to them during their first few months. 
The mesh sides provide a clear view and help with the airflow.
Please note
This bassinet is quite heavy! Luckily you can slide it to move it around the room without having to carry any weight.
Our Verdict
Overall, the Mika Micky Baby Bassinet is our top pick for a bassinet with wheels. It's a bedside bassinet with good locking wheels that gives you the closeness and convenience of co-sleeping, while allowing your baby their own protected space.
Still not sure?
Why Get a Bassinet with Wheels?
There are a few reasons why you might want to get a bassinet with wheels. Perhaps you live in a small apartment and don't have the space for a traditional bassinet. Or maybe you're always on the go and need something that's easy to move around. 
Whatever your reason, a bassinet with wheels can be a lifesaver!
We especially recommend getting a bassinet with wheels for moms with back pain issues or moms who underwent a c-section. 
It is important that you don't carry any heavy objects during the first few weeks after giving birth, so a bassinet with wheels can be a great way to avoid any unnecessary strain.
It is important that you don't carry any heavy objects during the first few weeks after giving birth, especially if you have undergone a c-section.
How to Choose the Best Bassinet with Wheels?
There are many different bassinets with wheels on the market, but not all of them are created equal. 
When choosing a bassinet for your baby, you want to make sure it's safe, sturdy, and easy to maneuver. With this in mind, we recommend looking for the following features:
Good Quality Wheels (of Course!)
Well-built wheels will allow you to move the bassinet around and maneuver it from room to room as needed. It is critical that they rotate smoothly, without any jolting, to keep your baby safe and comfortable. 
A good bassinet on wheels should be able to roll in any direction without any issues or problems.
Look for wheels that are made of durable materials, such as rubber or plastic, to ensure that they can stand up to everyday use. Wheels that have a smooth finish will also protect your hardwood floors from any streaks or scratches.
If you have carpeted floors, then look for a bassinet on wheels that has rubber or plastic grips. This will help prevent the wheel from slipping or sliding around when it's being moved across carpeted surfaces. 
Keep in mind that bigger wheels will be more convenient for transitioning from hard floors to rugs and carpeted floors.
Locking Wheels (for Added Safety)
Some bassinets have locking wheels, which prevents them from rolling when you don't want them to. This feature allows you to lock all four wheels at once so that they cannot move while your baby is sleeping or playing inside of the bassinet.
This can also be interesting if you have stairs in your home, as it helps to keep your baby safe and secure.
Safety First and Foremost
You don't want to cut corners when it comes to safety. A bassinet with wheels should be sturdy, stable, and firm enough so that your baby can sleep safely without falling over or tipping over while in it. 
A certification from the Juvenile Products Manufacturers Association (JPMA) is an indication that the bassinet model has been tested and approved for use by babies.
Weight and Age Limit
Make sure the bassinet you choose has a weight limit that is appropriate for your baby. 
Most bassinets have a weight limit of around 15 to 20 pounds, so if your baby is heavier than this, you may need to consider other options. 
In general, bassinets are designed for babies up to 4 to 6 months old, so be sure to check the age limit before purchasing.
Also, keep in mind that regardless of the weight and age limits indicated by the manufacturer, you need to consider transitioning your baby out of the bassinet and into a crib or another safe sleeping arrangement as soon as he starts showing signs of being able to roll over.
Easy Assembly
Sometimes bassinets with wheels come in pieces, and you have to assemble them yourself. 
It is important that these products are easy enough for the average person to put together quickly without any professional help or special tools needed! 
Luckily this point is generally understood by most manufacturers, so it shouldn't be an issue.
Related: How Long Can Baby Sleep In A Bassinet? 3 Signs To Make The Move
The purpose of this article is informative and educational only. It's not a substitute for medical consultation or medical care. We do not accept any responsibility for any liability, loss, or risk, personal or otherwise, incurred as a consequence, directly or indirectly, from any information or advice contained here. Babycious may earn compensation from affiliate links in this content.