We picked out the best pacifier for breastfed baby for you to avoid the much-dreaded pacifier nipple confusion and safeguard your breastfeeding journey.
The products mentioned on this page were independently selected by Babycious editors. As an Amazon Associate, Babycious may earn a commission from qualifying purchases.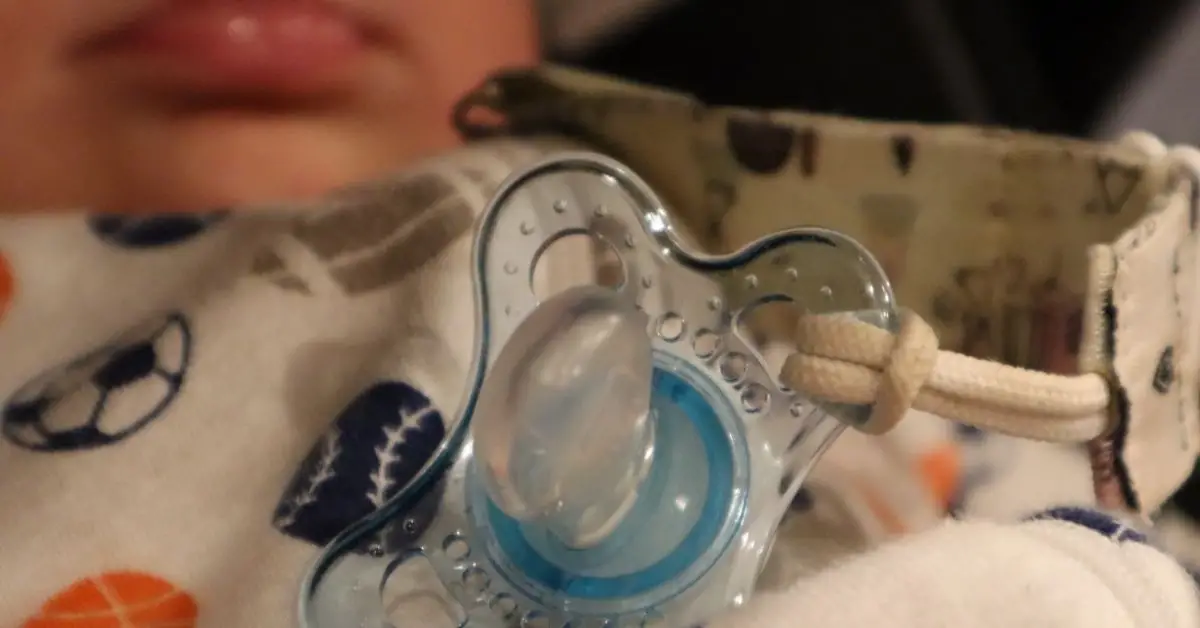 Do you have an inconsolable breastfed baby who just wouldn't take any pacifier? You came to the right place. In this article, you will find the best pacifier for breastfed baby.
As a breastfeeding mom, the pacifier was a sanity saver! Regardless of whether she's breastfed or formula-fed, a baby needs to acquire self-soothing skills. A pacifier (or binky), if chosen correctly and introduced at the right time, can improve your baby's sleeping habits by helping you stick to a napping schedule and can offer some comfort in your baby's fussiest moments. And the bonus is you will finally be able to leave your baby with her grandparents or babysitter, knowing they have a way to comfort her in your absence.
If you are worried that getting your baby a pacifier will ruin your breastfeeding efforts, we are here to guide you to the most breastfeeding-friendly pacifiers on the market, so you can keep calm and breastfeed!
Our Top Picks
Looking for a quick recommendation for the Best Pacifier for Breastfed Baby? Here are our top picks:
The Best Pacifier For Breastfed Newborns And Preemies
What we love
This pacifier is excellent for breastfed babies. Here's why: it was shaped to stay in the baby's mouth and to prevent any risk of nipple confusion, and to ease your baby's transition between the pacifier and the breast. Plus, we find it contours the baby's face the best.
We like that it is made of transparent material, so you can actually look inside your baby's mouth if you want to check in on her gums.
The ultra-light material makes this pacifier ideal for breastfed newborns who can't keep heavier and bulkier binkies in their mouths. It's also super flexible and soft, and easy to keep clean.
A bonus point for the Nanobee pacifier is that they don't have any hidden holes or spots where mold can collect. You can hook them onto pacifier clips to keep them from falling on the ground and getting dirty.
Please note
If your baby is older than three months or just big in size, the nipple of this pacifier could feel too small or too short and might not stay in place.
The Best Pacifier For Breastfed Babies With Lip Tie Issues
What we love
If you already use Dr. Brown's bottles to feed your baby your pumped breast milk, chances are your baby will take to this pacifier instantly as it has the same nipple shape.
This pacifier is a good option for babies with tongue and lip tie issues. It has an extremely wide base, just like the bottle, so the tongue doesn't have to work hard to keep it in.
The butterfly-shaped, contoured shield curves away from the baby's face so you don't have to worry about it pushing up and interfering with your baby's breathing. We find that the butterfly design makes more sense for breastfeeding moms.
Note that there isn't any difference in size, but the difference lies in the degree of the hardness. As babies get older, they'll begin to chew on it and pull when they are teething, so it is wise to upgrade your pacifier to the age recommended for babies.
Also, note that this is a new design from Dr. Brown's. It looks frosted and has a little handle on it, making the pacifier easier to carry and easier to attach to pacifier clips.
Available in a variety of colors.
Please note
Make sure to check and see if there is any fluff or hair stuck on the pacifier before you put it in your baby's mouth.
The design of the nipple on this pacifier may raise concerns about it affecting the baby's teeth. So use it with caution, and consider switching to another pacifier once your baby starts showing teeth.
The Best Pacifier For Breastfed Babies Overall
What we love
The Mam brand pacifier is an established name among moms who breastfeed. Breastfeeding moms love this pacifier and report little to no issues between the breast and the MAM binky.
These pacifiers sport adorable designs and come in gender-neutral colors that will match your baby's outfits. But they are also thoughtfully designed and developed with dentist input! The nipple feels comfortable and has air holes that ensure that your baby's skin stays dry.
The materials used in this matte collection are lighter weight than the classic ones, which is great for smaller babies.
The packaging actually doubles as a microwavable sanitizing case so that you can put this pacifier with some water in the case and pop it in the microwave to sterilize it, all under 3 minutes. We find this to be really convenient for moms on the go.
Please note
Moms found this pacifier difficult to attach to a holder or "lovey".
This pacifier is not one piece, so dirt can easily build upon it. We recommend that you clean these pacifiers regularly and replace them every three months or whenever you notice any sign of molding.
The Best Pacifier For Teething Breastfed Babies
What we love
These are classic pacifiers, and babies love them! You might even be given one of these soothies while in the hospital in NICU, so you might as well try and see if your baby will take to it.
Pediatric dentists and healthcare professionals recommend these pacifiers; babies can easily hold and chew on them when they start teething.
They are also easy to clean as they are made from one piece with no indents where mold and dirt would collect. You can hand wash them or put them in the dishwasher for quick and easy cleaning.
Please note
The light colors make these soothies get lost like socks in the washing machine; they blend into anything.
They don't attach to plushies.
The Most Stylish Pacifier For Breastfed Babies
What we love
We love the cute woven handle on these pacifiers. It makes it easy to attach to binky straps and for the baby to grip them and acts interestingly as a kickstand so the pacifier doesn't roll out when it falls (which it inevitably does).
They don't hold moisture in the mouthpiece like some do and are super easy to clean as they come in a single-part design.
These are adorable pacifiers that you can get for your baby or give as a baby shower gift!
We recommend that you boil them for 3 minutes before using them the first time.
Please note
The material of these pacifiers tends to attract lint and fuzz, but a quick wash fixes that.
This is a one-size-fits-all pacifier, so newborns may find it too cumbersome to keep in their mouths unless they have excellent sucking skills.
Our Verdict
We absolutely love the MAM Original Matte Pacifier for breastfed babies. This pacifier gets the most praise for not interfering with breastfeeding. It ticks all our boxes in terms of design and safety.
Still not sure?
When to Safely Introduce a Pacifier?
A pacifier can be introduced safely once breastfeeding is successfully established. We recommend that you wait for at least 3 to 4 weeks before offering your breastfed baby a pacifier.
Keep in mind that a pacifier should not be offered constantly. A pacifier should only be offered after feeding.
What if My Baby Won't Take the Pacifier?
An essential piece of advice is simply to be patient. If your baby refuses the pacifier at first, don't consider it a failure. Many babies happen to refuse to suckle on a pacifier that doesn't feel right. This is why we put together a list of 5 breastfeeding-friendly pacifiers for you to choose from.
How to Pick the Best Pacifier for Breastfed Baby?
The best pacifier for a breastfed baby should have the right shape, a.k.a. be anatomically correct. It should be made of quality materials and should be the right size for your baby, so it won't hinder her oral development.
Is the Pacifier Anatomically Correct?
The shape of the pacifier is fundamental. Let's be clear: a baby will suck on literally anything, be it a finger or an elbow, but you want to offer him an anatomically correct pacifier. It will help promote healthy oral development and prevent insufficient pressure on your baby's gums and teeth.
What Is the Pacifier Made Of? Natural Rubber vs Silicone Pacifiers
There are different materials a pacifier can be made of. Silicone and rubber are the most common materials used for the nipple part of the pacifier.
Although natural rubber seems a no-brainer if you are looking for a non-toxic pacifier, we didn't include any rubber pacifier in our list of pacifiers, for the following reasons:
Durability: a natural rubber pacifier shows signs of deterioration very quickly. Therefore, it should be replaced quite often to prevent any risk of baby swallowing pieces of rubber. It also tends to break down quicker since it doesn't contain the chemicals that preserve the shape and texture of the nipple.
Allergy issues: Your baby may be allergic to Latex without you knowing. We take this issue seriously and wouldn't recommend getting a rubber pacifier unless you had your baby checked for possible allergies.
Although silicone is a synthetic material, food-grade silicone is safe for babies to suck and chew on and is generally a durable material that won't break or tear easily.
To stay on the safe side, the most important thing to look for is a BPA, PVC, and phthalate-free pacifier. These are the most common and most harmful materials that can be found in a pacifier, and that shouldn't be available for your baby to suck on or chew on.
What Is the Perfect Size for A Pacifier?
You will find that pacifiers come in various sizes. So how to choose the correct size for your baby?
The difference in sizes is generally related to your baby's age: newborns and big toddlers are very different when it comes to mouth and jaw size.
A rule of thumb is to go for a pacifier that is a bit too small rather than a pacifier that is a bit too big.
The purpose of this article is informative and educational only. It's not a substitute for medical consultation or medical care. We do not accept any responsibility for any liability, loss, or risk, personal or otherwise, incurred as a consequence, directly or indirectly, from any information or advice contained here. Babycious may earn compensation from affiliate links in this content.