Here are the best rocking bassinets you can get in 2023 to keep your baby close, comfortable and safe.
The products mentioned on this page were independently selected by Babycious editors. As an Amazon Associate, Babycious may earn a commission from qualifying purchases.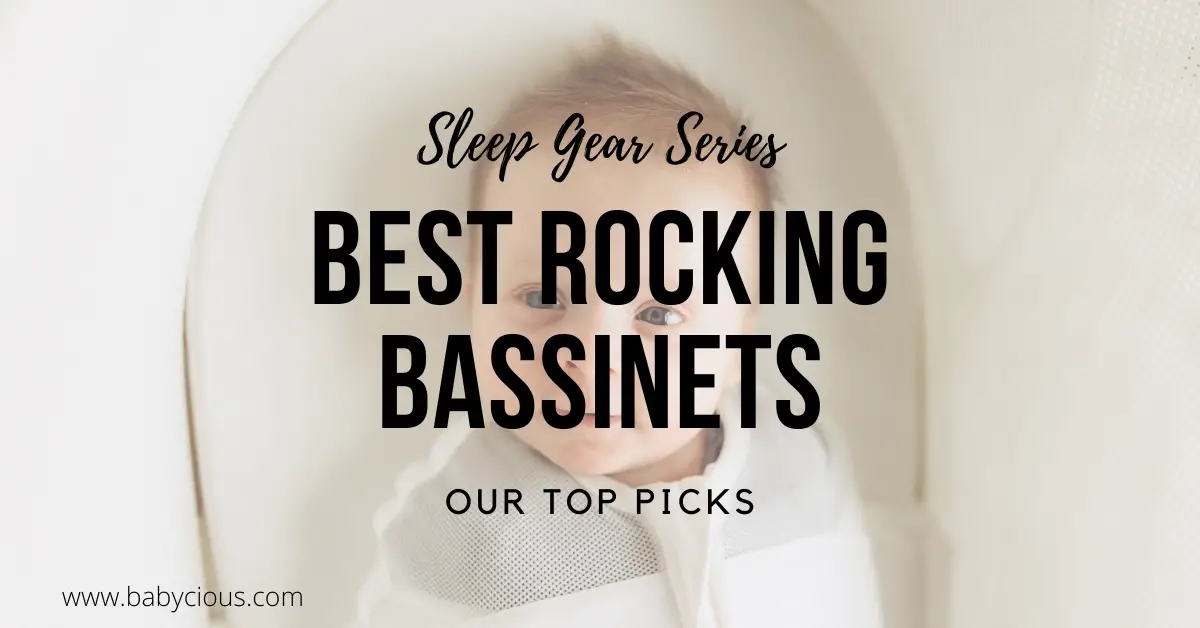 The truth about baby gear, is you don't really need to get everything. But some items will prove to be your new best friends after the baby is here. A rocking bassinet is one of those. It will be your baby's little cozy nest where you can safely put him down for naps and (hopefully) stretch them out some. 
If you are in the market for a rocking bassinet, then you have come to the right place. These are the best rocking bassinets your money can get you in 2023 carefully screened for safety, comfort and sturdiness.
Our Top Picks
Looking for a quick recommendation for the Best Rocking Bassinets? Here are our top picks:
The Best Rocking Bassinet Overall
What we love
If you're looking for a safe, portable, and stylish rocking bassinet, the BabyBjorn ticks all the boxes.
This bassinet has a spring suspension system so it rocks if you push from side to side, but also bounces when you lightly tap on the sides.
We love that it is designed with safety in mind and uses baby-friendly materials that won't harm your baby's delicate skin. It is also aesthetically pleasing and will fit smoothly into any room decor.
The bassinet comes with breathable mesh siding so you don't have to worry about your baby being stuck facing the side of the bassinet when she rolls on her side in the middle of the night. Plus, you will be able to see your baby from across the room.
This bassinet is really lightweight so you can pick it up and carry it with you around the house to keep sight of your baby at all times. And you can make it rock with only little taps on the side.
We also love that this rocking bassinet has a minimal footprint.
Please note
This rocking bassinet sits a little low next to most beds so you may find yourself reaching to get your baby in and out of the bassinet if you don't have a platform bed. The height is unfortunately not adjustable, so keep that in mind especially if you have back issues or if you are recovering from a c-section.
The fitted sheets from BabyBjorn are a bit expensive. We suggest that you get regular fitted sheets with the same dimensions that will work just fine.
The Best Rocking Bassinet To Transport
What we love
We really love this bassinet for its portability and small price! It's a perfect size for a newborn baby to fit snuggly in it in the early months and feel secure, but also small enough that it doesn't take up much room if you live in a small space.
You can rotate the legs to turn them into a rocking bassinet which is a lifesaver when the baby gets fussy in the middle of the night, or you can lock it down if you are going to leave the room or if there are pets nearby.
This bassinet comes with a canopy net that you can unzip to keep curious pets or pesky flies away from the baby. It also comes with mesh sides but it's not completely see-through as the mesh doesn't go all the way to the bottom
Setup and folding down are super easy and the travel case is easy to fit over the bassinet. You can easily take it with you everywhere because it's very lightweight and packs really small.
It does come with a washable fitted sheet to put over the pad, which is nice when the baby spits up or drools.
Please note
We would have preferred that the mattress was a little bit thicker, but you can get another one to fit this bassinet if you need to.
Sits a bit low to the ground.
The plastic covering the bottom of the bassinet may crinkle a bit.
The Best Rocking Bassinet For Multifunctionality
What we love
This is a cute and functional rocking bassinet.
We love the handy storage area underneath the bassinet for storing a diaper caddy and extra things you may need during the night.
The built-in features like a sound machine and a light projector actually steal the show. The setting with vibrations will put your baby right to sleep and the lights and nature sounds are calming. They do shut off automatically after about 30 minutes to lengthen the battery's life.
This rocking bassinet is partly made out of mesh so it provides good ventilation at the sides but is not completely see-through.
This is a well-made rocking bassinet that comes at a good price point and compares to more expensive brands.
Please note
You will need to disassemble the bassinet in order to thoroughly wash and clean all the parts.
Sits a bit low to most beds and is not height adjustable.
We found this bassinet lacks a locking mechanism to keep it still when the baby is sleeping.
The Best Rocking Bassinet For Larger Babies
What we love
This classy rocking bassinet stands out from its counterparts and looks very chic with its dark wooden legs combined with neutral colors that give it a high-end look and feel at a really good price.
It also stands out because it is larger than your average bassinet so it has quite a bit of room for growth, which means that you should be able to use it longer than the other bassinets. It can also be a good choice if your baby is on the bigger side. 
Although this bassinet is quite roomy, we like that it is still compact and light enough to carry easily from one room to another. We also like that it folds up almost completely flat for easier storage.
The rocking function works well enough to soothe your fussy baby but doesn't rock as much as other rocking bassinets we reviewed. You can get it to rock or stay stationary with a simple movement.
Please note
We like that this rocking bassinet folds easily, but we don't like that it splits the mattress. We suggest you take the mattress out before folding the bassinet to keep it from getting damaged.
We also note that the mattress that comes with this bassinet is rather hard and somewhat thin, but it shouldn't bother your baby. If it does, you can swap it for a more comfy mattress that fits exactly the measurements of this rocking bassinet.
The Best Rocking Bassinet For Small Spaces
What we love
So finally, here is a good rocking bassinet with adjustable height!
We love that you can easily assemble this bassinet and adjust it between 2 height positions to match the height of your bed or your living room sofa by pressing the locking pins on the sides of each support.
This rocking bassinet is perfect for small spaces, as it will not occupy a lot of space. When not needed, it can be folded away. We like that it moves easily across both hard floors and carpets.
The canopy net is very easy to zip and unzip and you should be able to see your baby through it and through the meshed sides. This also guarantees a safe and comfortable environment for your baby to sleep in, so no fear of your baby accidentally rolling over into the side.
This bassinet comes with a removable storage basket at the bottom, with enough space to store things your baby might need during nighttime like swaddle blankets, diapers, wipes, or toys.
Please note
The mattress is not the best we've seen, it might show signs of wear and indents after some time of use. Also, the cover of the mattress doesn't come off so you'll want to get a separate cover to be able to keep it clean.
Our Verdict
With so many rocking baby bassinets in the market, you can get easily overwhelmed.

After a thorough reviewing process, the winner of this roundup is the BabyBjorn Rocking Bassinet. This is one of the best rocking bassinets we have ever reviewed; if you are looking for a safe, non-toxic bassinet that would rock and bounce, this one's definitely for you.
We hope we have helped you make sense of what to look for and hopefully what to actually get. If you are still undecided read our guide below where we answer most asked questions about rocking bassinets and bookmark this page to come back to it later.
Still not sure?
What Is a Rocking Bassinet?
A rocking bassinet is a compact little crib that has a rocking motion.
A bassinet is ideal for newborns up to 4 months. Some models can accommodate babies up to 6 months.
The rocking function can be either manual or automatic. Either way, a rocking bassinet will soothe your baby by rocking her gently back and forth.
Why You Should Get a Rocking Bassinet
After having your baby, nothing in the world compares to holding him in your arms and taking in all that sweet newborn smell. I know. I've been there.
But after a while, your arms get tired, and your baby starts to doze off, and you'll want to put her down in the safest place possible. A baby bassinet is your best bet in the early months. And if it has a rocking function, it's even better.
Your Baby Will Likely Sleep Better in A Rocking Bassinet
Most babies, especially in the newborn stage, will sleep better in a rocking bassinet. The gentle motion of the rocking bassinet helps your baby stay calm by replicating the instinctual rocking all parents do when holding their baby.
A Rocking Bassinet Feels Familiar During that Fourth Trimester
After nine months of jostling around in the womb, a newborn will feel right at home in a rocking bassinet.
The fourth trimester is the three months period following birth. It is a time of significant emotional and physical adjustment for you and your baby. One of the ways you can ease your baby's transition after birth is by surrounding him with familiar things and feelings.
What to Look for When Buying a Rocking Bassinet
Every parent has different preferences on what is essential or not when deciding on a rocking bassinet. Still, we want to offer our opinion on the most important things that the best rocking bassinets should have.
Is It Safe?
Safety is the first and most important aspect we look for when looking at a rocking bassinet. Here's what we recommend you go for regarding safety:
Buy certified rocking bassinets: While this is no absolute guarantee of safety, the certification provides an assurance that the product complies with the ASTM (American Society for Testing and Materials ) standards, such as correct spacing bars or slats. Look for a JPMA seal on the package for certified products.
Avoid buying second-hand rocking bassinets: You don't want to use a rocking bassinet that fails to meet safety requirements. New products always have the date of manufacture on them, and you can be notified of recalls by sending in the registration.
Never leave your baby unattended while the rocking function is on: Remember to stop the rocking motion before you leave the room, or if there are any pets or toddlers in the room.
A flat, firm sleeping surface is a non-negotiable feature for a bassinet: That's what the American Academy of Pediatrics (AAP) recommends in its updated policy statement to reduce the risk of all sleep-related infant deaths. 
Is It Comfortable for Your Baby?
The mattress or pad inside the rocking bassinet should be firm enough to support your baby's weight and avoid any risk of suffocation. One way to know if it's firm enough is to check and see if your baby's head leaves an indent right after picking him up from the bassinet.
The mattress should also be just thick enough to be comfortable for the baby, but not too thick as it could pose another risk for suffocation.
It is recommended to use the mattress or pad that comes with the rocking bassinet since it has the correct dimensions to fit snuggly inside the bassinet. But, if you're not pleased with it, you may consider buying a mattress separately; just be sure to get the correct dimensions.
Is It Sturdy Enough?
Get a bassinet with a sturdy base to keep it in place. You need to be able to sleep next to your baby knowing that the bassinet's legs won't collapse under your baby's weight, or tip over if your baby moves suddenly. We know this is a nightmarish scenario, but you can't be too careful with your baby's safety.
Look for bassinets that are made of sturdy materials like hardwood, steel, or other high-quality materials.
What Are the Weight and Age Limits?
Most babies will outgrow the bassinet by 4 to 5 months.
A good rule of thumb is to move your baby out of the bassinet and into a safe cot or crib, when she reaches the weight of 15 pounds or when she shows signs of being able to roll over, whichever happens first.
Is It Easy to Move Around the House?
Portability is a must for a bassinet. You will find yourself moving the bassinet around your house to keep an eye on your baby at all times. You'll want a bassinet that is light enough and compact enough to carry it easily.
The purpose of this article is informative and educational only. It's not a substitute for medical consultation or medical care. We do not accept any responsibility for any liability, loss, or risk, personal or otherwise, incurred as a consequence, directly or indirectly, from any information or advice contained here. Babycious may earn compensation from affiliate links in this content.