It's one of the most common questions that moms have – should I get a nursery glider rocking chair for my baby? Here are some pros and cons to help you decide.
The products mentioned on this page were independently selected by Babycious editors. As an Amazon Associate, Babycious may earn a commission from qualifying purchases.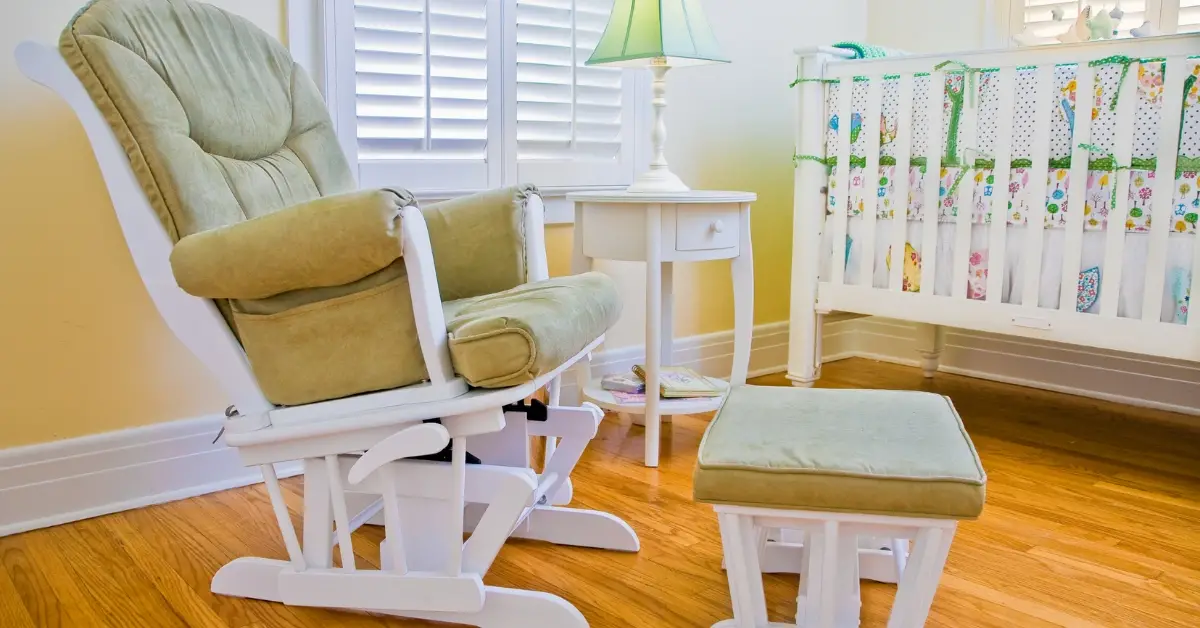 Did you know that a mom spends approximately 1800 hours breastfeeding during the first year of having a baby? That's a lot of time! In fact, it isn't far off from a full-time job.
You can absolutely spend that time sitting up in your bed or on the couch or at the dining table, but if there is one thing I have learned from my journey as a mom, it would be that if there's something that will make my life easier with a baby then I should invest in it. And one of those things is a (good) nursery glider rocking chair.
I know that there are a lot of people out there who are against spending money on such a thing, but I am here to tell you that it is worth the investment. I didn't buy one until my baby was about 5 months old and I wish I would have done it sooner.
So would I consider a nursing chair an essential piece of baby gear? No. A glider is one of those things that you can certainly do without in the beginning, provided you have an alternative setup that will support you back while you nurse your baby.
You can decide on getting one after the arrival of your baby and you might be then in a better position to select a nursery chair that fits your baby's needs and yours (rocking, gliding, stationary, etc.).
But is getting a good Glider for your nursery worth it? Absolutely. You will spend a lot of time in that chair, not only breastfeeding your baby but also sitting, snoozing, and just basically cuddling with your little one.
Why You Might Want to Get a Nursery Glider Rocking Chair
Comfortable for Breastfeeding
You can feed your baby virtually anywhere and in any position, but a good nursing chair will be way easier on your back and will help you get in a good position to breastfeed your baby comfortably.
Some chairs come with a footrest to make sure that your feet are comfortable too. So you can put your feet up and really relax when you're feeding your baby, especially during the nights when you might be a little bit more tired.
Convenient for Napping While Baby Sleeps
If you're like me, you'll probably spend a lot of time snoozing in your nursing chair while your baby sleeps. It's just so comfortable! And it's a great way to get some rest without having to leave the room.
This is especially helpful if your baby sleeps in their own room because you will have a place to sit in and nod off at night so you're not back and forth if your baby needs some snuggle time.
Gets You Some Rest on Restless Nights
I don't mean to scare you if you're a first-time mom, but it's better to be prepared. Some nights, your baby will just not get any sleep unless they're being carried, rocked, or walked.
This can happen for more reasons than I can count: teething especially when the molars start cutting through (at the same time), a head cold, an ear infection, and so on.
A nursery glider rocking chair can be a lifesaver in those situations because it allows that soothing motion to go on while you can get some rest. On those restless nights, you will probably get not much sleep either, but at least you will be comfortable during that late-night rocking to sleep.
Great for Beyond Breastfeeding
Even after your baby is no longer a baby and starts actually sleeping through the night, you can still use your nursery chair for reading a book before naps or bedtime together or just for cuddles.
Your Glider Rocker can also definitely become a part of your living room decor after you don't need it in the nursery anymore. The bond you can develop with a comfy chair is real, and there's no reason it should stop once you wean your baby off.
Related: Best Pacifier For Breastfed Baby (Who Won't Take One)
Reasons to Put Off Getting a Nursing Chair
Despite being extremely helpful, there are a few reasons why you may want to put off getting a nursing chair. Here are three of them:
You May Not Need One Right Away
Chances are, if you're still pregnant, you won't need a nursing chair until after your baby is born. And even after your baby is here, you might choose to room-share with your baby in your master bedroom.
This is actually a good idea and falls in line with the recommendations of the AAP (American Academy of Pediatrics) for safe sleep.
If you do choose to room share, you'll be able to breastfeed your baby right in bed with you while you are side-lying for the first few months.
A Glider Rocker Can Take up A Lot of Space
A nursing chair can be an imposing piece of furniture. If you are short on space in your nursery or in your bedroom, a large glider rocker might not find its place in your small nursery or crowd it even more.
Nursing Chairs Can Be Pricey
A nursing chair can be a pricey investment, but there are many affordable options available. You may also be able to find used chairs through online classifieds or your local mom's group.
So, if you're on the fence about getting a nursing chair, Go second-hand, I don't think you'll regret it.
Also, if you're like me and you plan on using that chair for years to come, it's definitely worth the investment.
How to Choose the Best Chair for Nursing?
When it comes time to choose a chair for nursing, you'll want to consider a few things. Ideally, you'll want a chair that has the following features:
Very comfortable back, arm, and base cushions
Sturdy so it doesn't squeak
Good rocking feature that mimics the soothing motions that calm babies
Has a neutral design so it can be used in the living room after it no longer serves in the nursery
Of course, you don't have to purchase a brand new chair in order to get these features. Just make sure that the nursing chair you choose is in a good condition. The cushions in particular shouldn't be completely worn off.
Armrests are an important feature. You will use them to angle your breastfeeding pillow or support your elbows. Plus it will keep your pillow in place.
Armrests are a must in a nursing chair. They are very helpful for positioning and offer great support when your baby falls asleep in your arms.
Also, squeaking is a deal breaker so make sure the chair is tight and well-built with no loose screws so it doesn't fall apart on you.
Honestly, I would recommend sitting in some nursing chairs to have an idea of the fit and to see what feels more comfortable for you. For this, you can go to your local furniture store that has some good brands and try out some of the chairs, you can then try to see if you can get them second-hand if the price of new chairs is out of your budget.
If you're buying second hand I recommend the brand Dutailier. They are pricey new but are built like a rock. Get a model that reclines! It's very comfy and relaxing.
If the thought of sitting in a chair that has lived before freaks you out, go for a brand new one! This glider chair is sold on Amazon for about 180$ with the ottoman. You can almost mistake it for a Dutailier for its looks and is comfy according to parents who got it. To save a bit more, you can use the registry completion discount amazon offers for expecting moms.
Related: What Breastfeeding Accessories Do I Need?
Rocker Glider Tips for Short Moms
If you're a short mom, you're not alone in this. I'm 5'3 and I have a hard time reaching the floor in standard gliders.
I've found that what's more important than the actual nursing chair, is having a good footrest or ottoman. They make all the difference for petite moms like us. You can also try putting a bed pillow behind your back so you're not as far back in the chair.
Another thing that really helps is wearing hard-soled slippers when you're rocking in your glider and not using the footrest. They give you that little bit of extra height that you need to reach the ground.
Again, if you're going second-hand, the Dutailier glider is great for short moms. It has a bit of a narrow seat that will help get you in a comfy position even if you're petite in size.
For a new glider chair that works for short moms, I recommend getting the Graco Sterling Semi Upholstered Glider and Nursing Ottoman off of Amazon. The full price is about 240$ but you can get in for 190$ on sale. I like that the ottoman has a ramp you can rest your feet on to help you rock the chair without having to reach the floor.
Nursing Chair Alternatives
If you're not in the market for a nursing chair, or just want something that gives you that little bit of comfort without getting a specifically designed chair for nursing, there are a few ideas you can try.
You Can Actually Get Away with An Ikea Poang
The Ikea Poang is actually the nursing chair of many of my mom friends, and they love it for nursing!
If you do get the Poang chair, make sure you get a nursing pillow to help you position your baby comfortably. The boppy pillow together with the Poang chair and ottoman make an excellent combination.
A Recliner Can Also Work
Another option for a nursing chair alternative is to use a recliner.
Recliners are great because they offer a lot of comfort and can be used for different purposes other than nursing your baby. Chances are you already have one in your living room.
Granted, a recliner won't offer the same level of comfort as a rocker glider but it will do the job. It will especially allow you to doze off and have a nap if your baby sleeps in your arms without having to get up. While nursing, you can use a pillow to prop your baby up and get them in a comfortable position.
Don't Store Your Yoga Ball Just Yet
If you have already got an exercise ball that you used to prepare your body for giving birth, you can actually use it as a nursing chair.
A yoga ball is also a great option if you want to be more active while nursing. Sitting with your little one on the yoga ball with a boppy pillow can do wonders for putting your baby to sleep. Bouncing is a different motion from what rocking chairs offer, but it could be just your baby's jam!
Bottom Line
A nursing chair is a great investment for all the time you will be spending in it over the next few months (or years). Make sure to get one with some key features, like armrests and a good ottoman, to make your experience more comfortable.
If you don't want to spend the money on a new chair, try using an Ikea Poang, a recliner, or your yoga ball. Whichever route you choose, make sure to get comfortable so you can relax and enjoy this special time with your little one.
The purpose of this article is informative and educational only. It's not a substitute for medical consultation or medical care. We do not accept any responsibility for any liability, loss, or risk, personal or otherwise, incurred as a consequence, directly or indirectly, from any information or advice contained here. Babycious may earn compensation from affiliate links in this content.