Here are the best baby hooded towels that will make you look forward to your baby's bathtime.
The products mentioned on this page were independently selected by Babycious editors. As an Amazon Associate, Babycious may earn a commission from qualifying purchases.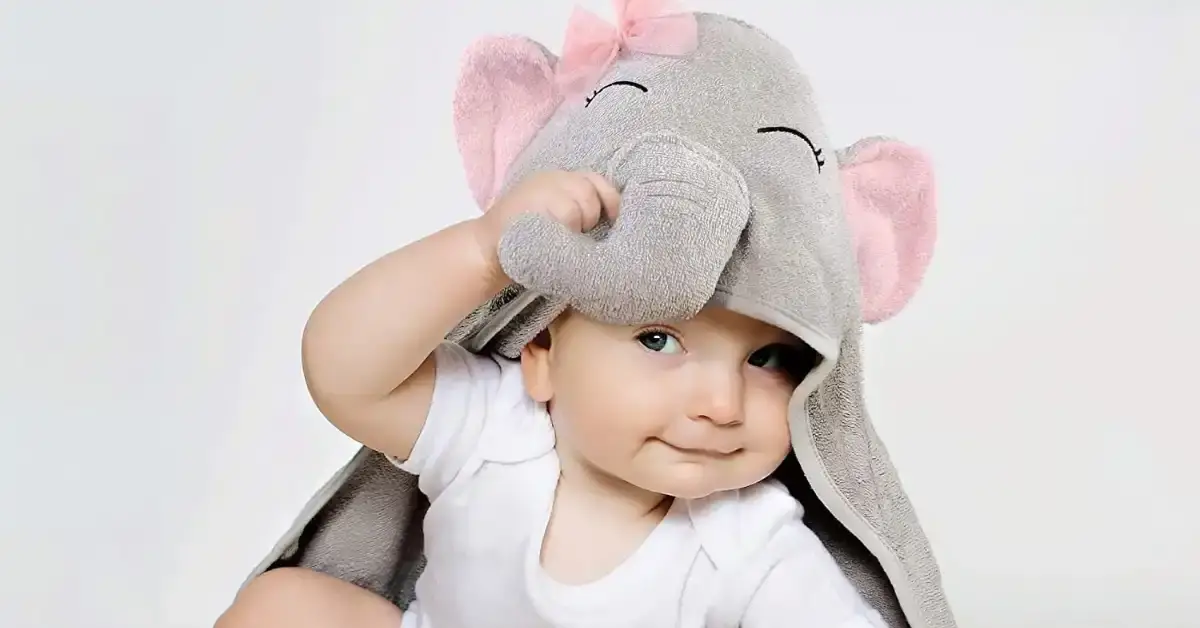 Is your baby fighting bathtime, or does she get all excited at the sight of water? Either way, a good baby hooded towel is essential for a safe landing from the bath land! 
In this guide, we'll review the best baby hooded towels to help you make a good value purchase.
Our Top Picks
Looking for a quick recommendation for the Best Baby Hooded Towels? Here are our top picks:
Cutest Baby Hooded Towels​
What we love
Parents absolutely love these towels. They come in a large selection of cute animal designs, and we love that the design on the hood holds its shape after washing.
Cuteness is not the only merit of these baby hooded towels, and they are very well made. They are thick but still soft and absorbent. Your baby will be cozy and warm in these hooded towels and look heart-meltingly cute!
Softest Baby Hooded Towels​
What we love
This is a luxury baby hooded towel that you can get for your baby. It is also a great baby shower gift idea! We love that it's gender-neutral so that you can use it for boys or girls. It is also very big, so you'll use it for a long time.
It is made of bamboo fiber which makes it very soft and absorbent. We highly recommend it for babies who suffer from eczema or dry skin.
Please note
This hooded towel can take some time to dry completely. So make sure you have a replacement towel you can use while it's drying or in the wash.
Best Organic Baby Hooded Towels​
What we love
This baby hooded towel is made of the softest cotton. If you are concerned about the origin of materials that a baby towel is made of, this one's for you. 
We love the choice of material for this towel. These towels are made of GOTS-certified organic cotton. They are soft and thin enough to reach and dry the small areas of your baby's body, and they handle washing and drying very well.
These towels come in various colors and patterns if you want to match your nursery's decor.
Please note
This hooded towel is a bit on the smaller side. While it's perfect for newborns and tiny babies, it can feel small for older babies.
Best Baby Hooded Towel That Will Grow With Your Baby​
What we love
A large towel that will grow with your baby? This is the one. Because it is extra-large, it will give great coverage to your little one and will last you until the toddler stage and beyond.
We love that the design of this hooded towel is different from most models. Instead of being square-shaped, this one is rectangle-shaped. It has the hood on the center of the longer side, which gives you a lot of room to fully wrap your baby using the entire length of the towel.
The package includes a full-size washcloth and is nicely wrapped, so this can make a wonderful baby shower gift.
Also, the little bear ears are adorable!
Best Baby Hooded Towel For Bath, Beach, Or Pool​
What we love
This super-light hooded towel is perfect for packing for your baby for a day at the beach or the pool. We love that it has two layers of organic cotton muslin that will keep your baby warm and dry after his bath. 
If your baby can stand up on her own, she can hold the towel by the pockets and help dry herself. And because it is small-sized, you can also let your child stand up and run around without having the towel drag on the floor.
Please note
Some parents complained that this baby hooded towel is a bit short, especially for older babies. Other than that, it's a winner.
Still not sure?
Do Babies Need Hooded Towels?
You can definitely make do with a plain towel that you'll wrap around your baby quickly after getting her out of the bath. But a hooded towel can be a lifesaver at bathtime. Babies, especially newborns, get cold quickly and have some trouble maintaining their body heat. In order to ease the transition from the warm bath water to the ambient air, you need to act fast! 
With a hooded towel, you can quickly and easily slip your baby's head into the cap and wrap the rest of the towel around his body. Plus, baby hooded towels are super cute!
How Many Hooded Towels Does a Baby Need?
Some baby hooded towels come conveniently in a pack of two. This is a good number to start with. While one towel is drying, you'll have a dry and clean one ready to be used. Having two will also simplify the laundry routine. You'll always have a replacement towel for the one waiting to be washed.
Depending on how frequently you do your laundry loads and how often you bathe your baby, it can be more or less interesting to get more than two hooded towels.
How to Choose a Baby Hooded Towel?
A good baby hooded towel should be soft, comfy, and cute. Choosing a baby towel made of natural materials such as cotton or bamboo is essential for your baby's freshly bathed skin. If your baby has sensitive skin, make sure the hooded towels you get are 100% organic.
The purpose of this article is informative and educational only. It's not a substitute for medical consultation or medical care. We do not accept any responsibility for any liability, loss, or risk, personal or otherwise, incurred as a consequence, directly or indirectly, from any information or advice contained here. Babycious may earn compensation from affiliate links in this content.