Are you looking for the best mini crib mattress? We've put together a list of top 5 mattresses that will help make your decision much easier.
The products mentioned on this page were independently selected by Babycious editors. As an Amazon Associate, Babycious may earn a commission from qualifying purchases.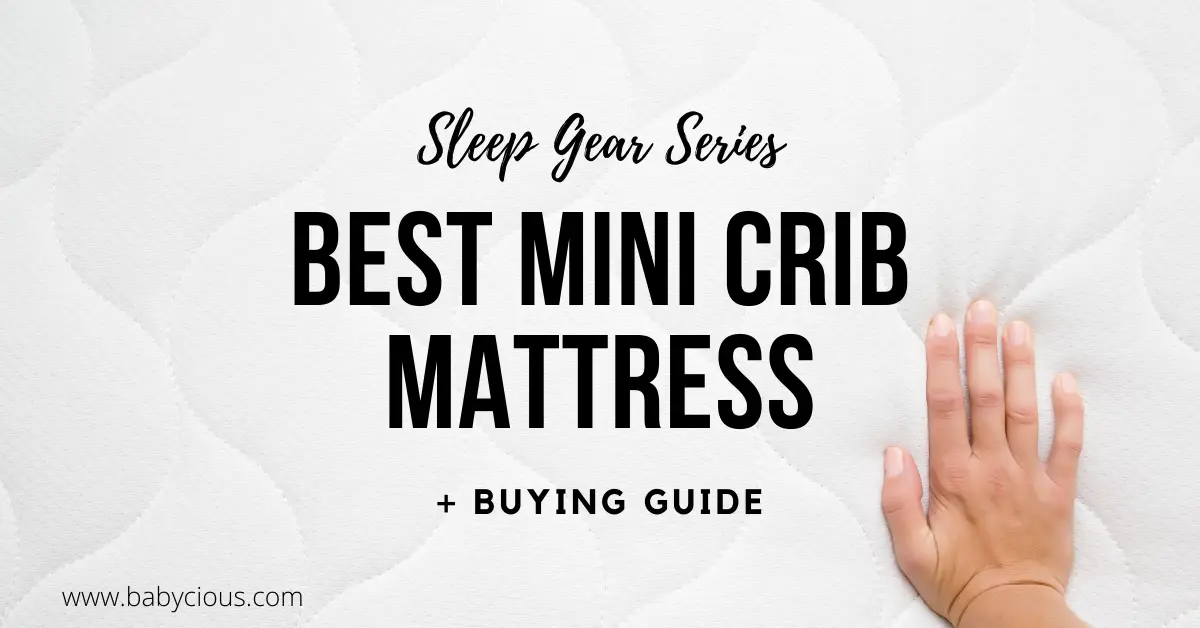 If you're looking for the best mini crib mattress, you've come to the right place.
As a parent, you want your baby to get the best sleep possible, and a good mattress is key to that. A bonus that comes with your baby sleeping better is that you will sleep better as well, and that is priceless!
A mini crib mattress is an integral part of your baby's sleep environment. Crib mattresses are responsible for providing a safe and comfortable place to sleep and grow. 
They should be plump and firm and remain supportive throughout the baby phase (and beyond).
In this blog post, we will share our top five picks for the best mini crib mattresses on the market. These mattresses offer a variety of features, including breathability, comfort, and durability. 
So, whether you're looking for a basic mattress or one with extra bells and whistles, we have you covered!
Our Top Picks
Looking for a quick recommendation for the Best Mini Crib Mattresses? Here are our top picks:
The Best Mini Crib Mattress Overall
What we love
We'll say it upfront. This is the most expensive mini crib mattress on our list. But you're investing in your baby's well-being, safety, and your peace of mind, and honestly, you can not put a price on a baby sleeping through the night at 3 months (or a baby sleeping through the night in general). 
Parents who purchased this mattress noticed almost immediately that their baby fell asleep faster and stayed asleep for longer.
Some even said their baby had their longest stretch of sleep yet since using this mattress. So one thing is certain: the price matches the quality in this case.
The cover that comes with the mattress does a good job of protecting it from minor diaper leaks, but you might want to get a separate cover to lengthen the mattress's lifespan.
This mattress is firm and very comfortable as it has some squish, but not enough squish to be unsafe for your baby.
If the price of this mattress is making you cringe, know at least that the fact that it is dual-stage ensures that you'll get a few years out of it.
Please note
The sides are not clearly marked whether it's firm or not. Telling the infant side from the toddler side is tough, so you might want to mark one side with a permanent marker. They aren't labeled.
It is expensive, but we believe it's well worth the money!
The Best Mini Crib Mattress For A Small Budget
What we love
The Dream on Me Holly 3″ model is one of the best-selling mini crib mattresses on Amazon right now, and for a good reason. It measures 24x 38 inches, so it fits most mini cribs. The inner core is constructed with extra firm Eco-fiber for extra support and Embossed Soft Vinyl Cover, Waterproof binding to keeps the mattress fresh adds to the comfort.
As it is extra lightweight and portable, many parents praise how easy it is to change the mattress cover and sheets. 
Many customers are very pleased with this Dream on Me model, and they say that it fits perfectly with their mini crib. They also say that the mattress stays firm after several months of use.
Baby mattresses are supposed to be firm, and this one is firm enough (but not rock hard), so no indents form after your baby lays on it, which is a good indication of safety.
Please note
Some parents complained about the crinkling sounds the waterproof material makes which can bother light sleepers.
The Best Eco-Friendly Mini Crib Mattress
What we love
Our favorite feature is that this mattress is made from recycled bottles. Yay for saving the environment while your baby is soundly asleep!
The mattress is super firm but still comfortable. We also like that the cover is removable and machine-washable and doesn't make loud noises when your baby moves during their sleep. 
The dimensions are 38 inches by 24 inches which means it will fit most mini cribs out there.
We also love the thickness of this mattress; 4 inches is perfect for a baby to sleep comfortably on.
If you're looking for an eco-friendly and comfortable mini crib mattress, then the Delta Children Serta SleepTrue Mini Crib Mattress is a great option, especially considering its affordability.
Please note
Some parents reported that the waterproof cover makes some noise when the baby moves around but not enough to wake them up.
The Best Organic Mini Crib Mattress
What we love
The Babyletto is one of the only non-latex and organic mini-crib mattresses on the market. Knowing your baby is not being exposed to unnecessary toxins and off-gassing is truly worth the extra money.
The mattress has absolutely no smell, so you can use it right away. 
The firmness seems just right for infant sleeping: hard enough to be safe, but not so hard that baby is uncomfortable. 
You don't have to use an additional waterproof cover, but if you want to give the mattress an extra layer of protection, you can go with an organic cover.
Overall this is a great mini crib mattress that fits the Babyletto mini crib perfectly and most other mini cribs.
Please note
Some parents thought this mattress was too firm, but we believe too firm is safer than not firm enough when it comes to infant sleep.
The mattress cover that comes with it does not last, assuming you might want to wash it. The foam mattress really shouldn't be used without a cover as there's no good way to clean it.
The Best Breathable Mini Crib Mattress
What we love
If getting a non-toxic, breathable mattress for your mini crib is your top concern, then we highly recommend that you consider this wonder-dream mini crib mattress.
This mini crib mattress is the perfect combo of softness and firmness. It has encased coils inside, so this helps regulate temperature by allowing air to pass through the entire mattress.
The mattress has a removable cover that comes off easily and can be washed. The encasement is water-repellent on the top and sides and allows air and heat to ventilate on the bottom. 
The company says that the water repellent is Prop 65 compliant, containing none of the potentially harmful chemicals.
There is no smell when you take it out of the wrapping, and it can be used right away. The thickness of the mattress is great and is firm enough for newborns.
Our Verdict
Overall, the Moonlight Slumber Mini Crib Mattress is definitely a mattress we can recommend with our eyes closed to give your baby the best sleep they can get. 

Most parents who purchased this mattress are satisfied with it and think it's well worth its price. It has the perfect combination of softness and support and is as thick as a full crib mattress for comfort that will last for the baby stage and beyond.
Still not sure?
What Is a Mini Crib Mattress?
A mini crib mattress is a smaller version of a regular crib mattress. It typically measures 24×38 inches, making it the perfect size for a mini crib with standard dimensions.
Of course, if you have already decided on a mini crib to get (If not, check our complete guide for getting the best mini crib), then you'll need a corresponding mini crib mattress.
The mattress should fit snuggly in your mini crib without any gaps on the sides or at the end.
What Size Mattress Goes in A Mini Crib?
Although mini crib mattresses are typically 24″ wide by 38″ long, which makes them fit perfectly in the average mini crib, some mini cribs come in smaller or larger dimensions.
A mini crib with special dimensions can be a good option to consider if your nursery or the room you will be sharing with your baby has limited or awkwardly shaped space. If this is the case, the best solution is to look for a mini crib mattress that fits snugly and securely against the mini crib's side. If you can remove the mattress and reinsert it back into the mini crib with ease, then this should be a good indication that it fits right.
But before you purchase a separate mattress, check if the mini crib you chose doesn't come with a mattress. If the mattress provided with your mini crib is of decent quality and looks comfortable and firm enough, then you might not need to buy an extra mattress.
If, however, your mini crib mattress looks and feels on the flimsy side, it might be a good idea to purchase a separate replacement.
There are Mini crib mattresses for every budget, so make sure you read through our recommendations for the best mini crib mattresses.
Mini Crib Mattress vs Full-Size Mattress
The mini crib mattress is definitely smaller than a full-size crib mattress, so you won't be able to use them interchangeably. You can check our article where we compare Mini Crib Vs Crib for more details.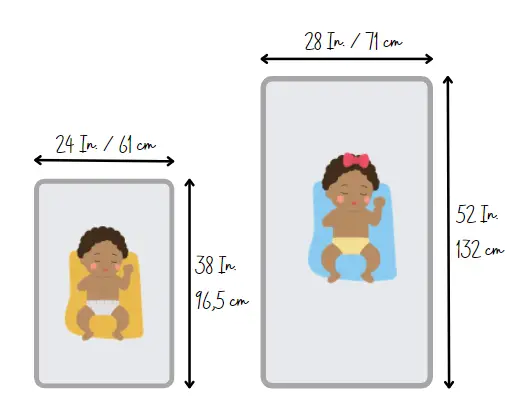 Why Are Mini Crib Mattresses so Thin?
Many full-size crib mattresses are at least 5″ thick and some are even as high as 9″! For a mini crib, the thickness of mattresses available on the market range from 1″ for some that come included with the mini crib to 4″ or 5″ in some models.
While 3″ thick is an acceptable thickness for a mini crib mattress, 1″ can feel uncomfortable for your baby especially if they are older than 6 months.
If the mattress you got with your mini crib is too thin, we recommend that you replace it with a more comfortable one for your baby.
How Thick Should a Mini Crib Mattress Be?
The ideal thickness for a mini crib mattress is between 3 to 5 inches.
Although some manufacturers offer mini crib mattresses as thin as 2″ and as thick as 8″, we recommend that you choose a mini crib mattress that is at least 3″ in thickness and no more than 5″.
Types of Mini Crib Mattresses
There are two main types of mini crib mattresses: foam mattresses and innerspring mattresses.
The Innerspring Mini Crib Mattress
Innerspring mattresses are a common type. They come with a steel coil spring unit that is vertically placed throughout the mattress, which gives them their shape and form.
Innerspring mini crib mattresses offer great support and durability. On the other hand, they don't have much padding.
So, while they offer good support for your baby, they may not be as comfortable for your baby to sleep on as a foam mattress.
The Foam Mini Crib Mattress
Foam mattresses are another popular option for parents and babies. They usually come in a larger size, and they can last up to four times longer than the innerspring ones since they don't wear out over time.
On the plus side, the foam mini crib mattress does not absorb fluids, and it's naturally resistant to dust mites and other allergens.
On the downside, foam mattresses don't offer as much support as their coil counterparts, and they may feel too hard for some babies. However, there are various models out there that offer a balance between firmness and softness.
So, if you choose the right one, your baby should be able to sleep on it without problems.
The Hybrid Mini Crib Mattress
In addition, there are hybrid mattresses as well. These models can give you the best of both worlds as they combine the foam and innerspring unit into one mattress that offers both comfort and durability.
So, if you're looking for something that will last a long time, this is the way to go.
How to Choose the Best Mini Crib Mattress?
When shopping for a mini crib mattress, you should know how it is made. Look for materials that are breathable, hypoallergenic, and made without dangerous chemicals. In addition to that, look for a mattress that will provide a firm sleeping surface and the necessary support to lessen the risk of SIDS. Finally, select a mattress that fits your mini crib and is easy to clean and maintain.
It is interesting to note that some mini crib mattresses are "dual-stage", which means you can use them both for the infant and the toddler stage. This type of mattress typically has two sides with different firmness levels, made possible by placing different layers of foam with different densities.
The firmer side is for newborn and younger babies, and the softer side is for older babies who have more control over their movements, making them less vulnerable to suffocating.
The firmer side is for newborn and younger babies, and the softer side is for older babies and toddlers.
Do You Need a Mini Crib Mattress Protector?
A mattress protector is an extra cushioning layer that you put on the top of your mini crib mattress for added comfort and protection from stains. However, if you bought your mini crib mattress with its own cover, then there's no need to purchase one separately unless it rips or gets too dirty.
A mattress protector will be a good addition to your mini crib mattress if you experience many diaper leaks, nighttime accidents, and spit-ups. It can extend the lifespan of your mini crib mattress by preventing liquids from seeping through the mattress and ruining it.
Conclusion
With the wide variety of styles, brands, materials, thicknesses, and warranties available, selecting the best mattress for your baby can be challenging.
We hope this article has helped you to make an informed decision about which features are most important to you and which brands fit your philosophy, needs (and budget). If you have any additional questions, please don't hesitate to contact us!
The purpose of this article is informative and educational only. It's not a substitute for medical consultation or medical care. We do not accept any responsibility for any liability, loss, or risk, personal or otherwise, incurred as a consequence, directly or indirectly, from any information or advice contained here. Babycious may earn compensation from affiliate links in this content.