Are you looking for a safe and comfortable place for your baby to sleep while you're out and about? Check out our list of the best portable bassinets!
The products mentioned on this page were independently selected by Babycious editors. As an Amazon Associate, Babycious may earn a commission from qualifying purchases.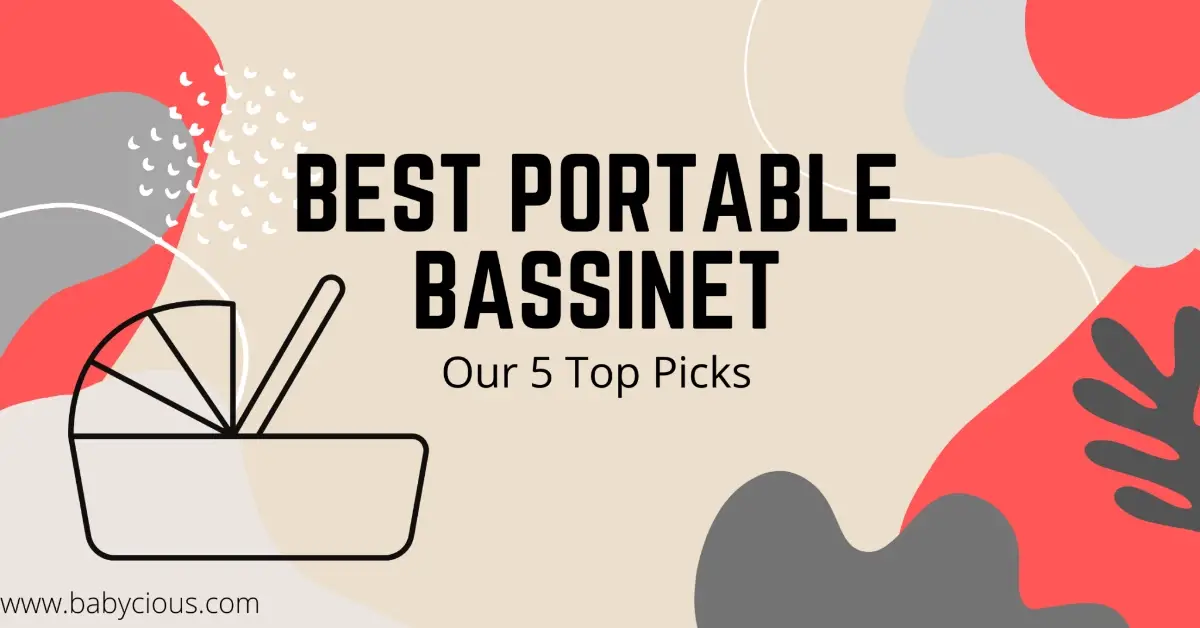 Having a baby is one of the most rewarding things in life, but it can also be one of the most challenging. One thing that makes parenting on-the-go a little bit easier is investing in a quality portable bassinet. Not only will this provide your baby with a comfortable place to sleep, but it will also give you peace of mind knowing that they are close by and safe and you can keep an eye on them wherever you are.
In this blog post, we will discuss some of the best portable bassinets on the market and why you should consider purchasing one for your family!
Our Top Picks
Looking for a quick recommendation for the Best Portable Bassinet? Here are our top picks:
The Best Portable Bassinet Overall
What we love
What we love best about this bassinet is that it can be used for babies weighing up to 15 kg or 33 lbs, making it a great option for newborns and babies up to whenever they can roll on their side. It's also made of lightweight materials so you can easily move it around your house, and the best part is that the steel frame collapses completely flat so you can store or transport it with ease.
We like that this bassinet is effortless to assemble and you can easily adjust the height between 2 positions by simply pressing the locking pins on each support. The lowest position puts the mattress 17.7 inches from the floor while the highest position puts it 27.5 inches from the floor.
The Besrey portable Bassinet also comes with a mattress, a basket at the bottom perfect for storing your swaddle blankets, and a canopy to keep your baby protected from house pets and pesky flies. It's easy to assemble and doesn't require any tools, making it perfect for busy parents on the go!
Please note
The mattress is the only weakness of this otherwise great portable bassinet. Some parents reported that the mattress quickly showed indentations and wear and that the cover does not come off so it is not machine washable.
The Best Portable Bassinet For Bigger Babies
What we love
This portable bassinet is huge compared to a lot of other bassinets we looked at. It is actually closer to the size of a bedside sleeper, which is great because it means babies can use it longer. We love the mesh sides that allow you to keep an eye on your baby without having to get up and look over. It is super easy to clean; the cover unzips for easy cleaning after spit-ups, blowouts, or whatnot.
This is a bassinet that is super easy to assemble (it should take less than a minute to set it up). It is also very easy to take apart and folds up to be only about 5-6 inches wide, and it comes with a convenient little transport bag which makes traveling to see grandparents and going on trips with a baby so much easier. This bassinet comes with a comfortable but firm enough pad, and the fabric is surprisingly soft. 
Take it from another mom:" If you have a baby that prefers napping and sleeping in swings or rock n plays, and you are looking for a safe option that is flat that is portable or great for your room while breastfeeding at night, this is a wonderful option."
Please note
While we love the mesh sides, the mesh net doesn't go all around the bassinet, so you might not be able to see through it from any angle
This bassinet sits a little low but could be the perfect height for you if you have a lower bed or if you intend to use it next to a sofa. 
The Best Portable Bassinet For Outdoor Use
What we love
If you need a safe and comfortable place for your baby to sleep anywhere, whether at the park, the beach, or visiting family and friends, this extra light bassinet is a great option.
It sets up and folds down in seconds and includes a convenient carrying handle which makes it absolutely perfect for traveling with an infant. Its locking frame and durable sidewalls provide stability while breathable fabric. The ventilated mesh panels keep your little one from getting too hot, and you can look across the room and see if your baby is awake/moving or not. You will have peace of mind knowing that the firm mattress and fitted sheet help provide a safe sleeping environment.
We love that it weighs practically nothing and that it folds completely flat, so it barely takes up any room and can be easily stored behind or under a crib. You should be able to fit it in a duffle suitcase or in most suitcases at an angle. 
A bonus point is that this bassinet will fit perfectly at your feet if you sit in bulkhead seats. That is extremely convenient for parents who are planning on traveling by plane. If you have other children, having this bassinet to pack instead of a full pack-n-play is a game changer!
Please note
If you have to fly, this bassinet might take up an entire carry-on bag, so consider putting it in a suitcase or just take it with you on the plane in its carrying bag.
The mattress is not the softest, but it is totally fine if you put the bassinet on a rug or carpet. 
We recommend that you use this bassinet on a stable surface. And to be extra safe, stop using it once your baby gets longer than 25 inches or when your baby begins to push up on their hands and knees–whichever comes first.
The Best Collapsible Portable Bassinet
What we love
Weighing only 12 pounds, this portable bassinet is the lightest one we have reviewed. Its space-saving footprint makes it ideal for small spaces as it's super easy to move around between rooms and also for going on trips with your baby.
The special thing about this bassinet is that it doesn't fold in half like most other portable bassinets on the market. Instead, you can remove the snap-on metal legs so the bassinet can collapse flat to go into a sleeve in order to be carried along with the legs. It makes for a little larger travel bag design, but that's perfectly fine because it's still easy to carry and SO lightweight.
This is especially interesting if you don't want the mattress pad to be folded in half, which can create a crease over time that might become uncomfortable for your baby.
It includes a waterproof mattress that's firm but still has a nice thin cushion to it, a fitted sheet and zip-off, machine washable bassinet fabrics.
The mesh side panels provide reassuring visibility and good airflow for your baby. The mesh storage pockets are a nice addition as they allow you to keep little essentials, such as a pacifier or burp cloth, conveniently close.
While this is not a rocking bassinet, If you need to "wiggle" your baby to calm them or soothe them when putting them down, the mattress can be jiggled lightly by hand as it hangs from the supports while the legs remain steady.
Please note
This bassinet can slide pretty easily on a hard floor. We recommend that you use skid-stopping stickers on the bottom of the feet for an easy fix.
The mattress sheets can be tricky to find. We recommend that you purchase fitted sheets from the same manufacturer (Chicco) as they fit perfectly and don't cost much.
The Most Compact Portable Bassinet For Travel
What we love
The EZ Fold Ultra Compact Travel Bassinet is the most compact full-size bassinet we reviewed and is a small-budget portable bassinet. 
This bassinet is lightweight for traveling and folds very easily for quick setup and takedown. That makes it great for stress-free travel.
It doesn't take up too much space and doesn't require assembling. Just lock the legs in, and you're good to go.
We like that it has a double canopy. If you have a curious cat that thinks every baby item in the house is for them, the canopy provides complete protection when your baby is sleeping.
You can machine wash all of the bassinet fabric before using it the first time and every time you need a cleanup. 
Please note
The mattress pad may be a bit on the thinner side.
Some parents reported that the canopy zipper is somewhat noisy and can create a slight vibration when you zip it that may wake the baby.
Our Verdict
Whether you're looking for a bassinet with storage that is lightweight and easy to move around, or simply want the most features for your money, one of these five portable bassinets will work for you. The Besrey Portable Bassinet offers all of the features you could want in a product like this and comes at an affordable price. 
So, if you're still undecided about which portable bassinet to buy, I would highly recommend checking out the Besrey. 
Let me know what you are looking for in a portable bassinet in the comments below – I'd love to help!
Still not sure?
What Makes a Bassinet Portable?
Portable bassinets are easy to move. Whether it's lunch at grandma's or a day trip, or just around the house, your baby is coming with you.
In order to enhance their portability, bassinets may come with features like wheels, which make it convenient when you want to take your baby from one room in the house to another. Or they could fold up flat so they can be easily picked up and put in your car's trunk or stored away while not being used. Or they could simply be very lightweight so that they can be carried by one person easily.
The best portable bassinet should not necessarily have all three of these features. It really comes down to your needs. For example, if your family is going to travel a lot, then it's best to purchase a foldable bassinet that can be carried around and stored away easily. 
If you plan on moving your baby from your room to another on the same floor level, then purchasing an extra lightweight bassinet or one with wheels would make more sense because it's easier to move it from place to place without having to carry the weight of the bassinet yourself! This is especially valuable if you have back pain issues or if you are a (brave) mom who has just undergone a c-section operation.
What to Look for In a Portable Bassinet
We've learned from our own experience and from the experiences of other parents just how important it is to have a dedicated bassinet for your newborn baby. While every parent has their own ideas about what matters or doesn't when selecting a portable bassinet, we'd want to share our views on the essential features that the finest rocking bassinets should have.
A Portable Bassinet that Is Safe for Your Baby to Sleep In
Safety first, as always!
You don't want to compromise on safety. The best portable bassinet should be sturdy, stable, and firm enough so that your baby can rest comfortably without any risk of falling over or tipping over when they're sleeping in it. And while it is not a guarantee of safety, a certification by the Juvenile Products Manufacturers Association (JPMA) is a good indicator that the bassinet model has been tested and approved for use by babies.
A Portable Bassinet Should Be Lightweight
The best portable bassinet should be made of lightweight materials that are durable but not too heavy on weight while still providing plenty of support when used as a little sleeping nook for your baby!
Weight and Age Limits
Like all bassinets, the portable bassinet is designed for a certain weight and age limit. It's best to double-check the specifications of your chosen bassinet before purchasing it, so you don't have any surprises down the road when your child has already outgrown it!
One rule to go with is to transition your baby from the bassinet as soon as she shows signs of starting to roll over on her side.
Design Your Baby Will Love Sleeping In
The best portable bassinet should be designed to give your little one the best sleep possible wherever they are! It's best if it comes with a comfortable mattress that is firm enough but not too hard on their backs and just thick enough to offer good support. Some bassinets also have a canopy or hood to provide shade from the sun or light and privacy for your baby when they're taking a nap.
Some parents might also want to look for a portable bassinet that comes with added features like music, vibration, and temperature control, as these can be helpful in getting your baby to go to sleep.
The purpose of this article is informative and educational only. It's not a substitute for medical consultation or medical care. We do not accept any responsibility for any liability, loss, or risk, personal or otherwise, incurred as a consequence, directly or indirectly, from any information or advice contained here. Babycious may earn compensation from affiliate links in this content.