Decorating your nursery is one of the most exciting parts of expecting a baby. Here are five tips for mixing and matching different pieces of nursery furniture.
The products mentioned on this page were independently selected by Babycious editors. As an Amazon Associate, Babycious may earn a commission from qualifying purchases.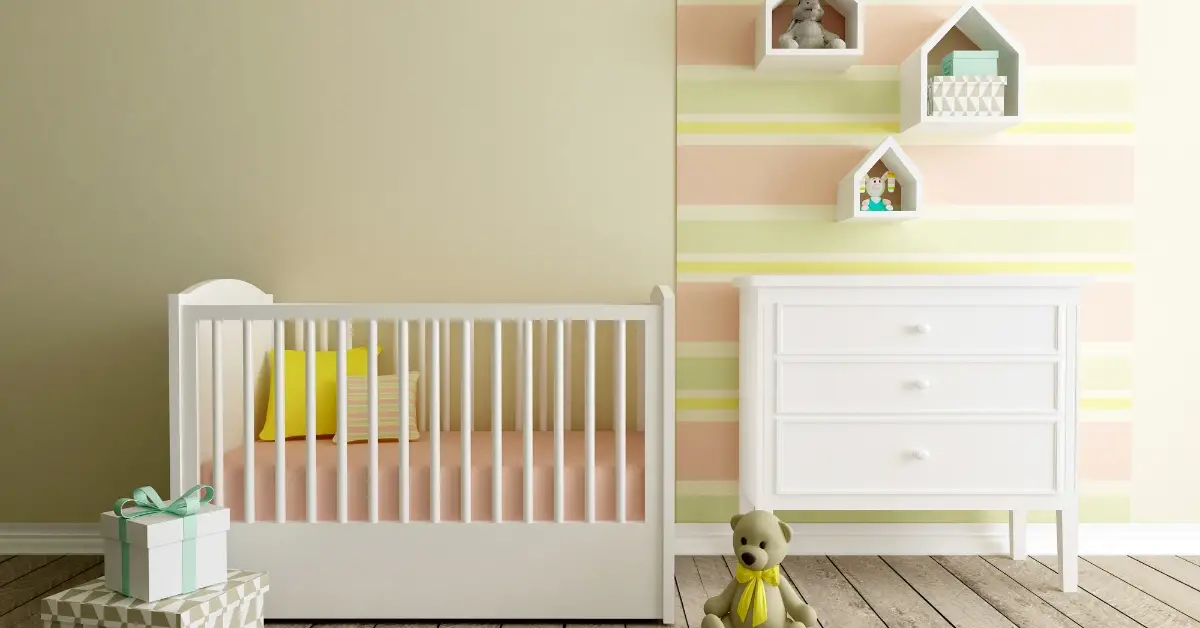 Decorating your nursery is one of the most exciting parts of expecting a baby. But what if you can't afford all new furniture, or aren't sure that it has to match? Here are five tips for mixing and matching different pieces of nursery furniture. Nesting is a special phase of pregnancy when you're preparing for your baby's arrival. You want everything to be perfect, but sometimes that can seem overwhelming – especially when it comes to picking the right pieces of furniture for your nursery while you're on a budget.
One question we often get asked is: does nursery furniture have to match? The answer is not at all! In fact, if you ended up with mismatched furniture from getting hand-me-downs and used items, then you're in luck! The current design trend is all about mixing and matching different pieces to create a unique and stylish look for your nursery.
The most important thing to keep in mind is coordination. Your nursery furniture should be coordinated, but not necessarily matching. Here's a mismatched nursery mood board that I created for my daughter's nursery that has some ideas to get you started: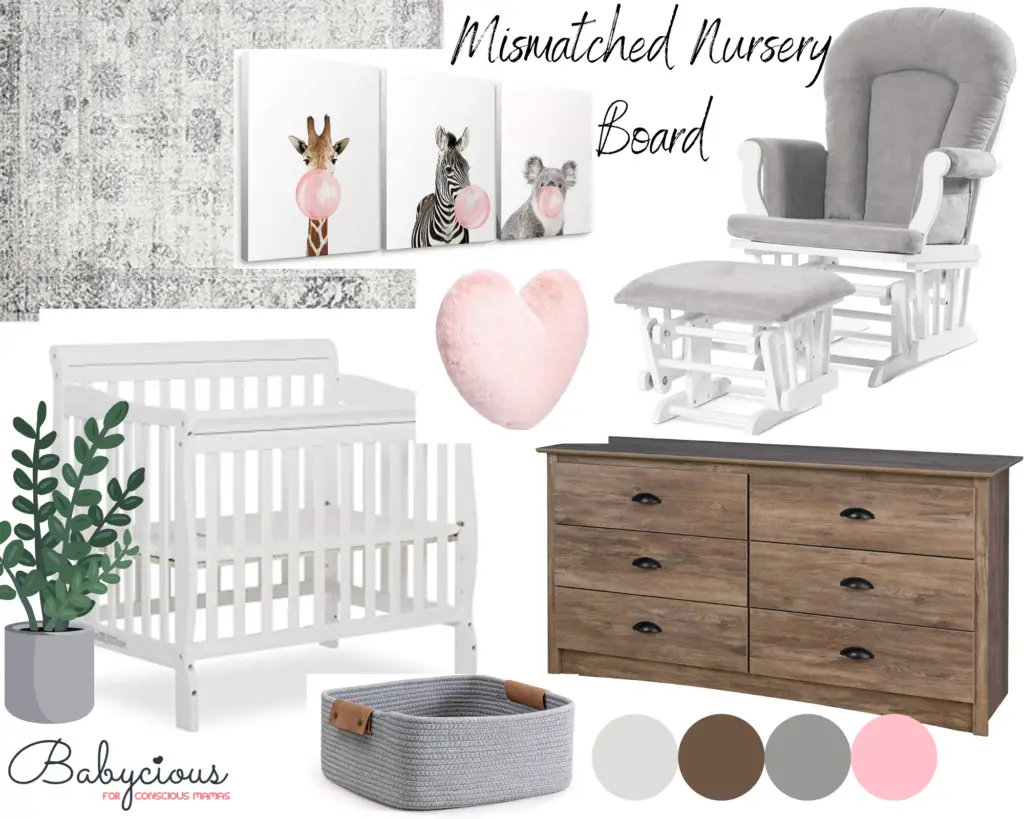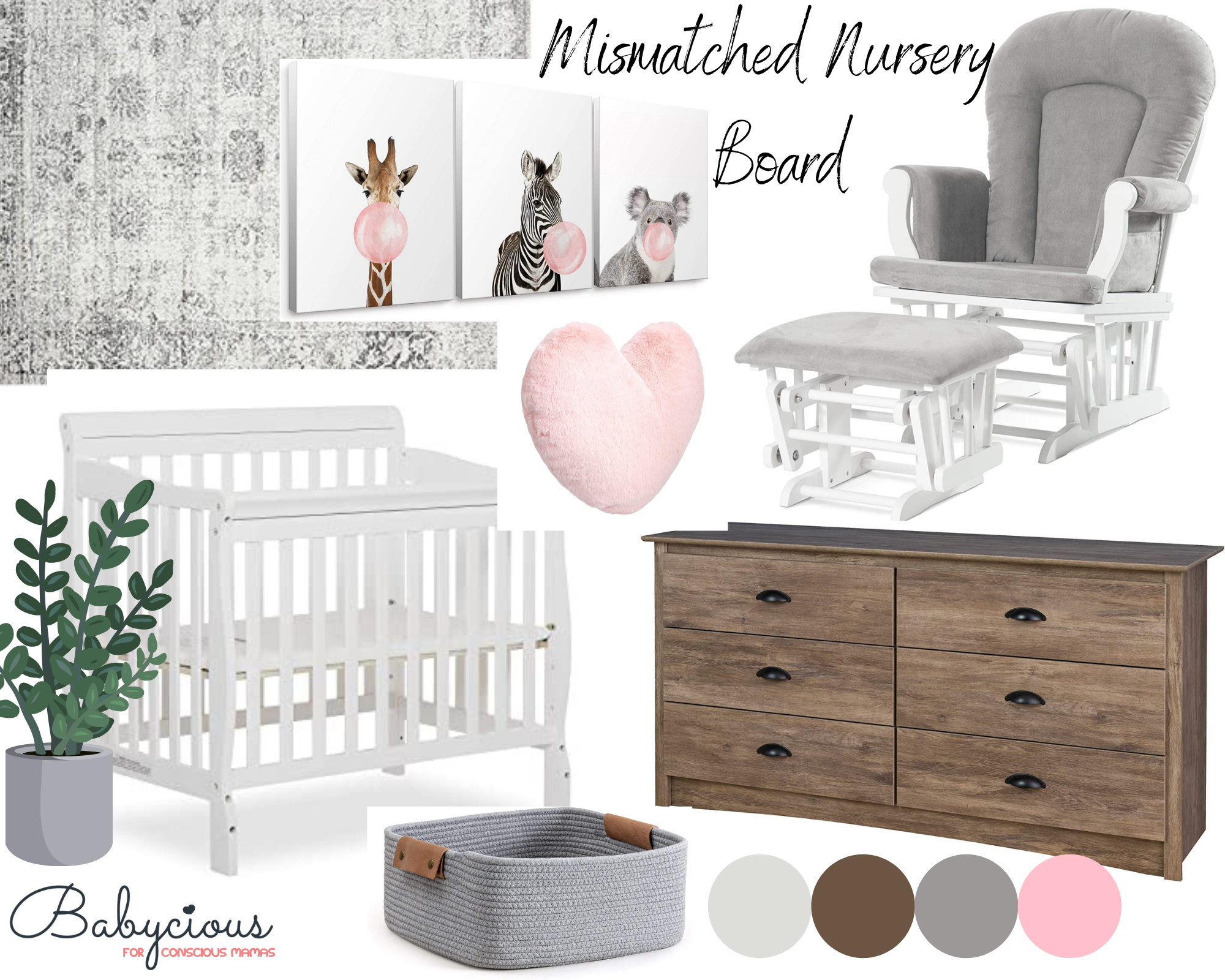 Items included in this board: Vintage Area Rug, Convertible Mini Crib, Drawer Dresser, Glider and Ottoman, Woven Basket with Handles, Bubble Gum Animals, Decorative Pillow.
I personally find that mismatched pieces of furniture give the room so much more character and personality. As long as you have a cohesive idea and plan for your nursery, you can't go wrong!
Things can get a bit challenging when you have nursery furniture in different types of finishes, styles, or colors that clash together. But there are many ways to carry a theme through to create a tied-together nursery that looks both chic and unique without having to discard some of the furniture or having to buy whole sets of furniture.
If you're not sure where to start, here are five tips for mixing and matching nursery furniture:
Give Your Nursery a Sense of Cohesion
The best way to create cohesion in your nursery is to choose a color palette and stick to it. This doesn't mean that everything has to be the same color, but similar colors will help tie the room together. For example, you could choose a light blue and white color palette and then use different shades of blue throughout the room.
This also works by taking a pattern and repeating it throughout the nursery in different ways. For example, you could use a geometric print on the crib bedding and then carry that same shape in other elements throughout the room like the rug, window curtains, or even in the artwork on the walls. You can also try to have the curtains and pillows to match.
Paint or Stain Some of The Furniture
One way to mitigate clashing wood tones or colors is to take some of the most contrasting furniture and either paint or stain it to make it more cohesive with the other pieces in the room. Painting furniture can take a lot of sanding and sweat but the results will most likely be totally worth it!
You could also use this opportunity to add some personalization and flair to your nursery furniture. For example, you could hand paint a mural over your baby's crib or dresser or add decals.
Another idea that can heal clashing styles, is to paint the whole furniture the exact same color. This works best if you have antique pieces sitting next to more modern ones as it will unify them and give them a more timeless look.
Use Similar Hardware
If you have furniture with different pulls or knobs, try to find some common ground by using similar hardware. You can do this by spray painting the pulls or knobs or even replacing them with new ones that are all the same. This is a quick and easy DIY project to make your nursery furniture look more cohesive without having to spend a lot of money.
You can use for example gold spray paint that is super easy to use and works well on metal, and paint all your nursery hardware in a beautiful rose gold-tone that will give it a nice metallic finish. You can go further and spray paint with the same color as your ceiling suspension or light stand or even some dollar store plastic bins and use them as storage baskets.
Mixing Wood Tones
Now, this is a matter of personal preference, but if you have a say in the matter, try to pick furniture in the same wood tone (light, dark, medium). This will give your nursery a more polished and put-together look.
While the wood furniture doesn't have to be the exact same throughout your nursery, it's good to stick with the same basic tone. For example, you could go with a white crib if your changing table or dresser is very light oak, or if you have a dresser in more of walnut color it would look nice to have the crib in a darker color.
If you feel a little bit more adventurous, try mixing different wood tones that are complementary to each other, like a cherry with a mahogany or pine with ash.
Find a Middle Ground
If you don't want to paint or stain your contrasting nursery furniture, you can try adding elements that will help tie the room together and create a sense of cohesion.
One way to do this is by bringing together the main contrasting colors or styles in decor elements like art walls. Your wall art is a great way to bring in some color and personality to your nursery. You can use it to tie together different colors and themes in the room, or even use it as an accent piece.
You can also add a piece of furniture that combines the two contrasting colors. For example, if you already have the crib in light wood tone and the dresser in dark coffee color, you can get a nursery glider in dark wood and have the cushions be in a light color.
Bottom Line
In the end, it's up to you how you want to design your nursery. There are no hard and fast rules when it comes to matching or mixing and matching nursery furniture. Use these tips as a guide to help you create a cohesive and stylish nursery that you and your baby will love.
The eclectic style of decorating gives you more freedom to own your own style and allows you to be more creative. So go out there and mix and match away! It really comes down to what you like and what your budget allows.
The purpose of this article is informative and educational only. It's not a substitute for medical consultation or medical care. We do not accept any responsibility for any liability, loss, or risk, personal or otherwise, incurred as a consequence, directly or indirectly, from any information or advice contained here. Babycious may earn compensation from affiliate links in this content.